<< Back
Raymond ChangJune 03 2021 at 10:00PM
Chat with the new PMI SFBAC CEO
Raymond Chang
Chief Governance Officer & Director at Large
I was honored when I was assigned to Lead the Chief Executive Officer Search Committee in November of last year by the PMISFBAC's Board.  I have interviewed and hired several positions in my career but never been assigned to search that high of the position.  With the guidance of my peers from the Board and the CEO Search Committee's members, we were able to complete the project successfully on time.  We received many great applicants from various industries to Lead the PMISFBAC as a Chief Executive Officer.  However, we have chosen Prabhu Gopalan who has great experiences in both volunteer and career positions to lead us this year and beyond.  I had a chance to interview Prabhu Gopalan virtually for the Newsletter and here were the responses from our CEO to our chapter's members.
As a representative of the board and President of the CEO search committee, I would like to congratulate you for taking over the PMISFBAC as a Chief Executive Officer.  I understand that you have a lot to undertake in the changes and direction that we are taking during the post-Covid-19.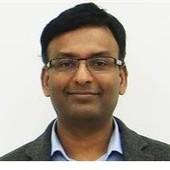 Prabhu Gopalan
Chief Executive Officer
Before, I ask your vision and strategy for the chapter, would you like to introduce yourself to the chapter's members.
Prabhu: SFBAC Chapter Members, hope you all are doing well.  I am excited to talk to you through the Newsletter and I can't wait to meet you all in person.  Ray, thank you for the opportunity.  To introduce myself, I received my PMP back in 2005 and had been a Project Manager myself for several years and led PMOs.  I have been associated with Chapter for well over 2 years in various capacities.  As my day job, I work at Facebook leading the Technical Program Management function. Looking back, 15 years ago when I struggled to transition from an Engineer to a leader, my PMP gave me the first leadership opportunity. From there, I went on to lead various organizations in various capacities. I am eager to give back to the community and develop/nurture more leaders.
Our PMISFBAC is a big chapter with close to 3,000 members across the Bay Area.  We cover many areas of the Bay Area from Belmont, Manteca to Modesto.    Many of our events are based around the majority of the Bay Area, do you have a plan to expand any events beyond the Bay Area?
Prabhu: Due to COVID, we stopped in-person meetings like any other business. However, that didn't prevent us from conducting events. In fact, 2020 was one of the most successful years where we had a record number of successful events.  Our virtual events are a great way for people to stay connected and up-to-date from the comfort of their homes. I expect a good number of our events continue to be virtual post-COVID as well to ensure people from all parts of the Bay Area can reap the benefits. 
PMI is currently evolving in the Agile Methodology as well as Traditional Project Management.  Do you have any plan on having any of the Disciplined Agile (DA) and provides DASM, DASSM, DAVSC, and DAC workshops in the chapter's members?
Prabhu: I am an Agile Certified Practitioner from PMI and acutely aware of the pivotal role Agile plays in many organizations. We have planned to conduct many workshops throughout the year. I would encourage our chapter members to check out our events calendar at the PMISFBAC.org website and register for the workshops.
What can you bring that is unique and valuable to members who are on the fence about joining or leaving the chapter before their membership expiring date?
Prabhu: If you are on the fence, don't be!!  Project Management as a function is changing and changing fast. We hand-pick the topics, speakers, and programs to up-level your skillset so that you can compete/excel at your job.  
For example, Project Management is no longer just a profession. It is a skill that all professionals need to have to land a new job or grow in their career or bring a positive impact. It doesn't matter whether you are an Engineer, Astronaut,  Entrepreneur,  or Architect. Project Management has become a must-have skill. We expect our reach to grow multi-fold in the coming years because of this.  We live in the Bay Area, a hub for innovation. We plan to introduce various events focusing on Project Manager in niche areas including Artificial Intelligence, Machine Learning,  Life Sciences, Renewable Energy, Small and Medium Business (SMB),  Space Technology, and much more. 
PMI Global is moving toward PMI 2.0 to
PMI 4.0
, what can we do to make sure that our chapter is aligned with their strategy?
Prabhu: PMI 4.0 is targeted for Changemakers.  We define Changemakers as those who proactively drive change and need project management skills.  They might be project managers by profession, or they might be people who would never consider themselves project managers today. We are gearing up to provide various targeted offerings through our Next Generation Leaders (NGL)  program and various product offerings. Some of which I outlined in response to your other question. Please look for additional communications in the coming months. 
PMISFBAC was very successful with the mentorship program previously.  Can you explain a little more about the mentorship program for members who are not familiar with it?
Prabhu:  We all had a moment in our career where we felt stuck. For example, we couldn't get the great job we aspire to or land on a promotion we always wanted or sometimes, frustrated with office politics. Wouldn't it be wonderful if we can pick up a phone or grab a coffee with someone who can help us to find the secret recipe to overcome the challenge or unlock our true potential?  That's the objective of the Mentorship program. 
We are blessed to have a large number of thought leaders, senior professionals as our members. These are the people who spent most part of their life navigating through difficult challenges and succeeded. Through the mentorship program, we connect our thought leaders with next-generation leaders and thereby help 100s of members every year.  Kudos to our mentorship team.  Our program is one of the most successful mentorship programs in the country.  Please visit our website for more information. 
Do you have anything you like to add in today's interview that you like to share with the members?
Prabhu: We are slowly coming out of one of the most difficult times in our lives. However, whether we like it or not COVID has permanently changed our lives in many ways. Some businesses have permanently closed while new ones are emerging. Many people have lost their jobs.  More and more jobs are remote.  However, we are here to help. Our volunteers spend 100s of hours every week creating new programs and events to prepare you for the change. Please make use of it.  
We also need volunteers. If you are blessed to have a job and/or in a good position please join one of our programs to help our members. Trust me, volunteering at least a few hours a week for selfless activity makes us a complete person while it transforms someone's life.  Together I am sure we can make our community stronger and better than ever before. 
The whole board is very excited to work with you during this difficult time and looks forward to working with you to lead this great non-profit organization for the Project Management Community.
I sincerely thank the Board for giving me the opportunity to serve our community.  I am confident that we will come out of COVID stronger than ever before. 
 "The people who are crazy enough to think they can change the world are the ones who do." Steve Jobs