<< Back
PMI-SFBACDecember 14 2022 at 12:00AM
Dec 2022 | Star Volunteer Spotlight - Margaret Au
Newsletters
Volunteer updates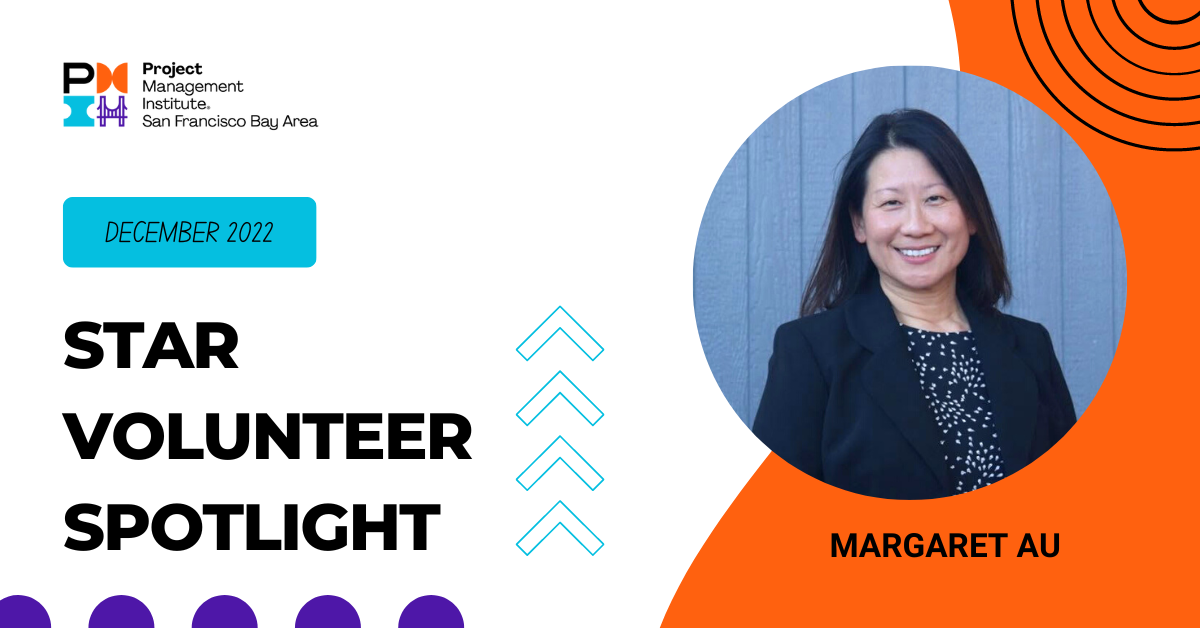 For a quick introduction, what is your elevator pitch of yourself?
As a project management professional, I worked at companies including Hewlett-Packard, Dolby Labs, and Nokia, and led cross-functional and geographically dispersed teams to develop next-generation technologies and products such as smart TVs, high-definition audio and video technologies, and virtual-reality solutions. I have been a PMI member since 2005 and earned my PMP certificate in 2013.
Who is Margaret at home and/or outside of professional space? What do you do for fun?
I have a passion for supporting sustainability. Outside of PMI, I am a co-founder for MOQller, an organization to help companies achieve zero e-waste by offering a marketplace to buy and sell excess electronic components instead of sending them to a landfill. Additionally, I lead Small Business Resiliency, a volunteer-based organization with a mission of helping local small businesses recover, pivot, and survive the downturn in the economy due to the pandemic. Finally, I also take classes from a local community college to further my skills in other areas of interest, including Nutrition, Photography, Graphic and Web Design, while working as a Nutrition tutor.
When did you start volunteering with the chapter, and most importantly, why did you join PMI-SFBAC?
I joined PMI-SFBAC to network with and learn from other professionals in project management. 
I learned about the PMI-SFBAC Sustainability "Green Team'' Program from one of their hosted events in 2019 when I volunteered to help, and was immediately drawn to their mission. 
What were your first impressions of the chapter and its volunteers?
I have been inspired by the leader, Ina Acuna, who built a very productive team where everyone is highly dedicated to our projects and developed strong teamwork. Looking across the chapter, I am proud to be part of an organization with a large gathering of committed and talented volunteers.
What was the biggest challenge you faced as a volunteer for PMI-SFBAC? How did you conquer it?
As with any volunteer group, it is a constant challenge to work cohesively and consistently, relying on everyone's spare time. Through focus on the essential elements for success, we developed and documented a set of processes and tools which very effectively facilitate our planning and execution to deliver valued sustainability content and events to a growing "Green Team" membership. I'm happy to say that we managed to operate efficiently without having unnecessary meetings, which shows respect for each member's busy schedules.
Bonus Q: What is your secret or super Project Management power? Why?
I would say active listening with a generative approach towards problem solving is my superpower. With a growth mindset and open attitude, I seek to continually learn, become more well-rounded and respectful of others, and create solutions that fit the actual needs as opposed to a cookie-cutter approach.