<< Back
Annette ThomasAugust 03 2021 at 12:00PM
Get Ready for our Annual General Meeting 2021
Dear Chapter Members,
We are delighted to announce that the Annual General Meeting aka Member Appreciation day 2021 is set to occur next month on August 19th between 5 pm to 7 pm.
This year we are coming back with an exciting array of fun, games, and laughter. Last year, the pandemic compelled us to experiment with a virtual mode of AGM and it was nothing short of a grand success. This year as things lighten up in the Bay Area we have decided to continue with the virtual mode to ensure safe networking opportunities for our members in the hopes that we are more than ready to start attending in-person events by the next quarter. We are sure that whichever be the mode, our members know how to have fun!
Check out the images from last year's AGM!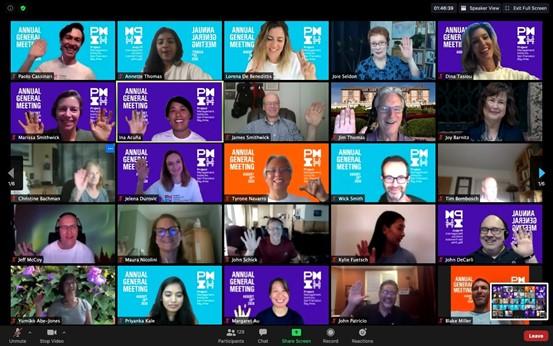 At AGM 2021, we are bringing an exciting keynote from speaker Spencer Horn who will talk to us about embracing the experiences we endured during these complex times and getting back to a brighter future together. Acceptance is step one on the road to recovery. As we get ready to come back to work and meet our colleagues in the office setting once again, it is important to be mindful of the various experiences that some of us may have gone through. We may be working with those who have undergone traumatic losses due to covid or have been victims of the targeted violence that took place this past year. It is our duty as global citizens to provide a safe working environment for our colleagues and to help build a positive future. 
That is why we have adopted the theme #FutureForward for this year's AGM. At PMISFBAC we are all committed to building a better future and moving forward with compassion at our core.
The AGM will be a great opportunity for our members to learn more about our strategic achievements from our new President Stephanie Salazar and Ops achievements from the new CEO Prabhu Gopalan. Our reigning CFO will give us transparent insights on financial matters of this year. We will be enabling ways to help you connect with fellow chapter members and network with the multitude of diverse and talented people in our community.
So mark your calendar, August 19th from 5 pm to 7 pm. 
This will be a great opportunity to
>> Meet our Chapter leaders
>> Network with our amazing members
>> Win exciting prizes
>> Unwind and enjoy our wholehearted appreciation for all your hard work
All attendees receive 1.5 PDUs and a super-secret reward. Yay!!!
This is a *Members* only event. Seats are limited, so register here!
To take a peek at what we have in store for you, check out our promotional video here.
--------------------------------------------------------------------------------------------------------------------
The Board Members are excited to meet you at the event and would like to acknowledge all of your hard work and support to our chapter.
Special thanks to our executive team
---------------------------------------------------------------------------------------------------------
One of the most exciting aspects of this year's AGM is that we have massive involvement from our Next Generation community led by the energetic combo Brandy and Mandy. They along with a whopping 15 volunteers have been working hard to ensure that each one of you has an evening to remember.
Meet our NextGen Brandy Pech

Brandy is currently the Director of Business Strategy for a startup firm, providing COVID-19 testing and vaccinations across the country to communities that are medically underserved. Over the past 10 years, she has worked in healthcare, nonprofits, public education, international development, and community peacebuilding.  
Brandy holds a master's degree in International Peace and Conflict Resolution and a bachelor's degree in International Relations. As a pacifist and global citizen, she believes in practicing peace through self-reflection and acts of social justice. Brandy is passionate about event management as much as she loves the beach, reading, food, rock climbing, and practicing yoga.
Meet our NextGen Mandy Hazen

Mandy is a retail and project management professional with 10+ years of experience in retail and 6+ years specifically in the technology sector with Apple. She possesses a strategic mindset that challenges her to understand how each business sector of retail interacts with each other and therefore plays into the customer experience. Mandy is a #Belieber and loves to pick up a book to unwind. 
Once again, don't forget to register for the event. RSVP is mandatory.
See you there!
Yours truly
Annette Thomas
Next Generation Leader | Director at Large
PMI San Francisco Chapter