<< Back
PMI-SFBACJanuary 19 2023 at 12:00AM
Jan 2023 | Volunteer Spotlight - Seyi Oshinowo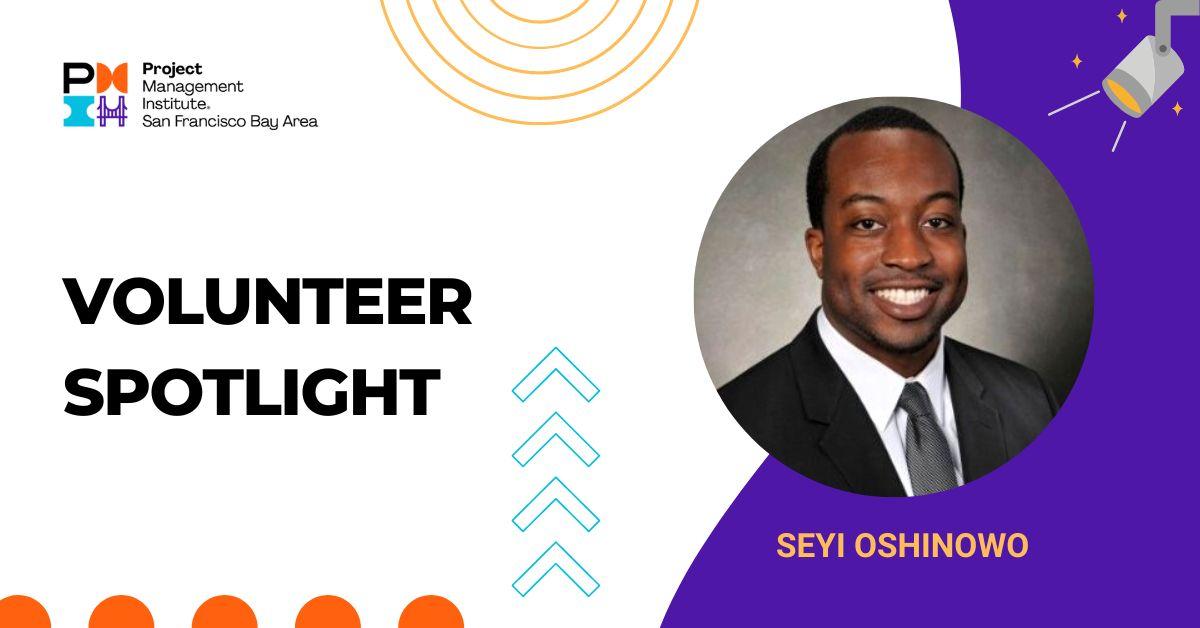 For a quick introduction, what is your elevator pitch of yourself?
I am a Nigerian American who is grateful to God for each opportunity to ease the burden of others and ensure everyone has a seat at the table. With nearly a decade of experience in project management and operations, I have developed and implemented initiatives across multiple industries, including professional sports and technology. From my time working with the San Diego Padres to my current role at Meta, I take immense pride in cross-functional collaboration with teams, and solving problems.

Who is Seyi at home and/or outside of professional space? What do you do for fun?
Out of the office, I am an advocate of serving the community and providing resources for others, especially the youth. I am currently a Board Member of the Ecumenical Hunger Program, and have years of experience working with the Boys and Girls Club as well as Big Brothers Big Sisters! Alongside volunteer efforts, I enjoy playing tennis, bowling, attending museums and sporting events, and exercising!

When did you start volunteering with the chapter, and most importantly, why did you join PMI-SFBAC?
I began volunteering in 2020 after I secured my PMP. Within days of seeing the wonderful Congratulations appear on the test computer screen, I joined the PMI-SFBAC chapter. Especially amidst the pandemic, I wanted to be part of a community where I can gain insights about the project management field from the best and brightest minds in the world. Here, I could attend webinars with renowned speakers sharing best practices and techniques, and also engage with other project management professionals on a more personal level. Being a member of PMI-SFBAC has been incredible, and I am excited to see how the chapter grows in 2023 and beyond.

What were your first impressions of the chapter and its volunteers?
My parents instilled in me the notion of being a part of something that is bigger than myself; I immediately connected with the sustainability team as a result. Ina Acuna's leadership is second to none, and she truly empowers her team to find opportunities for the chapter to learn. The volunteers in this group are equally as enthusiastic about sustainability efforts, and it is awesome to see how we create content for the community. 
The level of dedication to serving is not only within sustainability; I have had the opportunity to attend monthly volunteer meetings, and have witnessed how motivated the different teams are to help the chapter flourish. Ranging from marketing to IT to mentorship, each team finds unique ways to provide resources for others. 

What was the biggest challenge you faced as a volunteer for PMI-SFBAC? How did you conquer it?
The biggest challenge I have faced thus far has been identifying activities for members amidst the uncertainty that the COVID pandemic induced. Several questions arose such as:
Is there even an appetite for events (albeit virtual) in this climate?

How can we build (and sustain) a semblance of community?

How do we let people know that we are there for them, regardless of the circumstances?

As a member of the sustainability team, I was able to conquer it by initiating (and hosting) a couple of events. One that comes to mind is the event I led where I invited a fellow Metamate to share how Meta is partaking in the Net Zero by 2030 initiative. Seeing the people on the Zoom call warmed my heart, because these people could have been anywhere in the world, and chose to learn about sustainability. Their positive feedback inspired me to continue identifying events and activities for engagement.

Bonus Q: What is your secret or super Project Management power? Why?
First off, I love this question! I would have to say stakeholder engagement. I enjoy connecting with stakeholders, understanding their respective pain points, and leveraging resources / tools to identify potential solutions. The entire process is one of communication and building relationships, two things that are imperative in the project management field.