<< Back
Mary Ann MichaelsJuly 10 2022 at 06:00PM
July 2022 | Across the Board - Reflection from the Govern for Impact (GFI) Conference
The Govern For Impact (GFI) Conference was held June 16-18 in Ft Worth, Texas. And five PMISFBAC Board members packed up their hats and boots to attend.  And the rest of the board  attended  virtually. GFI is dedicated to building a world where boards lead the organization to achieving clear purpose and critical outcomes in an ethical, prudent, just, and risk-aware manner. 
At first glance the conference might sound like a yawner.  Three days talking about governance?  Well, we were pleasantly surprised by the dynamic speakers who were very knowledgeable and presented their ideas with humor and passion.
And we had great opportunities to network with others and within our team,
Sessions and topics included:
Traits of board directors of the future

Some fundamentals of Policy Governance

Creating powerful ends that translate values to a clear purpose

Future-focused governance including how to get unstuck and overcome resistance among board members to ensure policies will move our organization into the future

Exercising responsibility and delivering accountability

The Board and CEO relationship

And lots more!
And we learned some new buzzwords and the latest trends:
Radical inclusion

Deep democracy

Purpose collective

Greenwashing

Careholders

Etc!
Some key takeaways that got us thinking in terms of the SFBAC:
Positive traits of directors include big picture thinking, being deliberately decisive, assuming the best, being aware of personal biases, being a lifelong learner and teacher, and being constructively disruptive.

We'll take a look at our own skill toolboxes to see how we're performing on these aspirations

And see how we can improve to provide the best leadership for the chapter

We want to make sure desired outcomes (ends) are clear for the CEO and Operations team to be able to translate into value for the chapter

The Board makes big decisions and creates policies that guide/direct CEO/Ops decisions

We can apply some of the principles of Agile methodology to the ways we work, while still keeping a consistent message in terms of desired ends
Along the way we had some fun to bond as a group: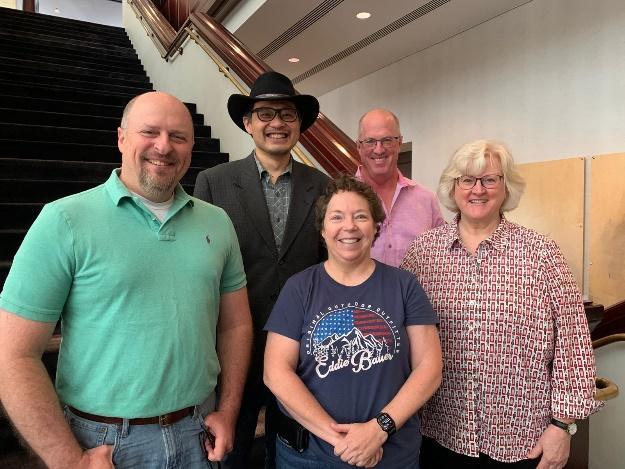 And we headed home happy and better informed!