<< Back
Carin KaltschmidtNovember 01 2023 at 12:00AM
PMI Global Summit 2023: Transforming Project Management in the AI Era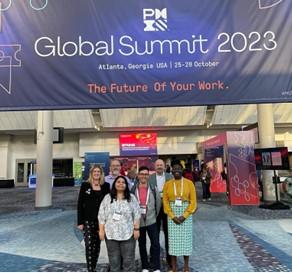 As a dedicated Project Management Institute (PMI) SF Bay Area Chapter member, I was thrilled to attend the PMI Global Summit 2023, held in Atlanta, Georgia, from October 25-28. This event brought together project management changemakers, leaders, and professionals committed to making ideas a reality. It was an enlightening and inspiring experience, and I'd like to share some of the highlights and insights from the event.
During the opening session, our esteemed PMI CEO, Pierre Le Manh, made a groundbreaking announcement about the acquisition of PMO Global Alliance (PMOGA), a well-known organization in the world of Project Management Offices (PMOs). PMOGA has a strong reputation for its community-driven approach, and this partnership promises to meet the needs of PMO leaders worldwide further.

Over four days, the summit offered an abundance of learning opportunities. Attendees had access to various keynote and presentation sessions, the lively conference area, and the exhibit hall.
Here are some of the standout highlights from the event:
Highlights by: Carin Kaltschmidt, PMP