<< Back
Athens KoliasDecember 19 2021 at 08:35PM
Review: Sustainable People Management (A Life/Work Balance Check In)
"I've got so much to do for work, home, school, my social cause, etc.
Pffttt! What work-life balance?"
We project manage so much, but often we neglect ourselves. In addition, the pandemic and social justice issues have triggered many of us to reassess what's important in our lives. We seek a more meaningful life, but how can we get it all done? How are we going to find the time?
On September 29th Wanda Lee Florestine, who is a veteran in the Talent Development space, presented the webinar:  Sustainable People Management (A Life/Work Balance Check In). Wanda starts off by reminding us that: "Only the sun burns for 24 hours". We humans have choices about preventing our own burnout!
Self-Care:  D.O.S.E.(s) of happiness...
"We must remember to give ourselves a D.O.S.E. of self-care (Dopamine, Oxytocin, Serotonin, Endorphin)." She had a great graphic showing activities that give our brain a DOSE of happiness: 
| | |
| --- | --- |
| Dopamine: the Reward chemical | Eating, achieving a goal, enough sleep, having a bath |
| Oxytocin: the Love hormone | Socializing, physical touch, petting animals, helping others |
| Serotonin: the Mood stabilizer | Sun exposure, mindfulness, nature walks |
| Endorphin: the Painkiller | Exercising, laughing, listening to music |
from: TheFitnessTutorUK. https://www.instagram.com/thefitnesstutoruk/
Wouldn't it be great if we had the time to do all those happiness-boosting activities? Let's see if we do…
How Much Time Does It Really Take?
Wanda challenged us to reassess how well we use our 24 hours each day. Her suggestion was to log your activities and their durations for a few days. When you log your activities, don't forget to INCLUDE time for thinking, creating, reviewing, analyzing, rehearsing, travel time, transition time, and down time. What? Yes, we often take for granted all the time needed to get everything done, including all these types of "hidden time", such as transition time, travel time, and time for rest. 
Think about it. Do you include travel time to and from the grocery store when you block your calendar for that task? How about time to unload and put the groceries away? How many times do you wish you had a clone to help you get it all done? This is the kind of thing that we often don't make room for. When Wanda did this exercise, she found that it takes 37.5 hours to complete all her tasks each day! Isn't that crazy? You're not crazy though and that's your evidence! 
Besides scaring ourselves, this activity log helps us see the full picture of our workload, both work and personal. Analyzing it's data shows us where we are actually spending our time vs. what we tell ourselves we are doing.  (any social media or video game addicts out there?)  
Where and what do you spend your time on?
The next step is to "use a spreadsheet or your favorite project management software to document your primary work responsibilities, functional accountabilities and how many different teams or projects you participate in regularly. (you can make this as fancy or as complex as is useful to you). What I found to be a great idea is to "create a "Wins" column to notate the things that you felt went well daily, weekly, or monthly so that you can reflect back on the things you accomplished."  Isn't this one of the Dopamine: Reward activities?? There you go, building in some doses of happiness!
Balancing business with self-care, how do we move work forward?
Once we've got the basic data, and it's categorized, we would lay it out on a calendar; like creating a program schedule of your life! If you look at her example below, you'll see some of my favorite tips.  She used color coding to highlight different priorities: Green for money or revenue efforts, Purple for self-care activities, Blue for checking email, and the rest for work tasks. Let me unpack that a bit.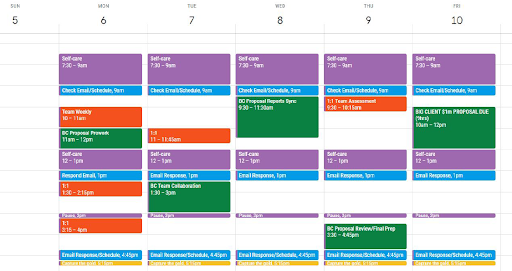 Of all the things you've got to do in a day, those which bring you revenue and help you manage your money are coded Green, so you can easily see them.  Notice, these are not just "bank errands", but client calls, proposal development, and other items which support your fiscal sustainability. Those are pretty important to see right away, right?  
A dose of happiness through self-care activities is pre-scheduled and coded Purple. Just like any other "important event", we need to make room for self-care by putting it on the calendar. Because it's so important that we "care hard" when we "work hard". 
And finally, those pesky time-sucking emails… This was a really big eyeopener for me, as I'm guilty of opening/responding to emails as soon as they land in my inbox.  Wanda said this habit gets in our way. Besides the world coming to an end, there is no message that can't wait a few hours. So why interrupt your productivity to go answer each email as soon as it comes in? (like a lab rat!) Wanda suggests scheduling 2 time slots during each day (blue) specifically for checking and responding to emails.  At all other times, set your computer to "No interruptions". If something earth-shattering is happening, then very likely someone will walk to your office and tell you in person, not by email.  Right? So train yourself and your team to respect the Blue! 
Time Matrix - Create Q2 Culture
"Q2 Culture is a culture that is more proactive than reactive. 
It is spending more time on the important and less on the urgent."
Before we can build a culture that respects your priorities and boundaries, you need to perform a quadrant analysis on your activities from the above list. The analysis defines activities as urgent/not urgent vs. important/not important, resulting in the following quadrants: 
Q1: Necessity

Important & Urgent

Reactive: Emergencies 

Got to do it now!

Q2: Extraordinary Productivity

Important & Not Urgent

Proactive:  

This is the important work that you have time to plan for excellence!

Q3: Distraction

Not Important & Urgent

Set boundaries; Do not Disturb. Don't let Tech rule you.

Q4: Waste

Not Important & Not Urgent

Eliminate or Avoid

Opportunities to reclaim your time.
Forcing yourself to place each of your activities into one of these quadrants, illuminates "waste" and distractions in your schedule, which then allows you to replace them with self-care efforts which then support Extraordinary Productivity for you and your team. And if both you and your team are practicing these mechanisms…. well now you're cooking with fire! By focusing your efforts on Extraordinary Productivity activities, you'll soon stop burning yourself out. Remember, only the sun can burn itself for 24 hours! 
Author: 

Athens Kolias, MPM, PMP, PMI-ACP, PGP is a former leader of PMI-SFBAC and currently teaches PMP exam prep and consults with Boards of Directors on setting up accountable systems of Governance. She is a self-professed process geek, a strong believer in people, and a crazy doggy mama! She invites you to connect at: https://www.linkedin.com/in/athenskolias/ 

Sustainable People Management - 2021Sept29

● Talent & Acquisition Director (15+ years in HR)

● DEIB Consultant | Huemanitarian

● Author | Trainer | Activist

● Behavioral Scientist (B.S. OB)

● Helicopter Mom in Recovery

● Joy, Creativity, Community

Wanda Lee Florestine
---------------------------
Note from PMI-SFBAC VP of Sustainability Ina Acuña: Join us for our next event Trash Talk on January 12, 2022 at 5:15 pm PT.