<< Back
Ina AcuñaDecember 17 2020 at 03:00PM
The Green Life
What's your favorite habitat? Mine is the ocean. I love the smell of it, snorkeling and diving in it, and the preciousness of its contents. Unfortunately - no secret to any of us - the ocean's having a hard time right now. Last year in Bali was the first time I felt inundated with plastic debris while snorkeling. Rather than enjoy the coral wildlife, I was compelled to fill my fin bag over and over with the plastic and take it back to the boat. We've also had 13 dead whales wash up in the Bay Area this year because of malnutrition. The problems with our environment are daunting; is there anything we can do?
Our Sustainability program offers opportunities to do green volunteering like nature trail maintenance, as well as events featuring sustainability experts.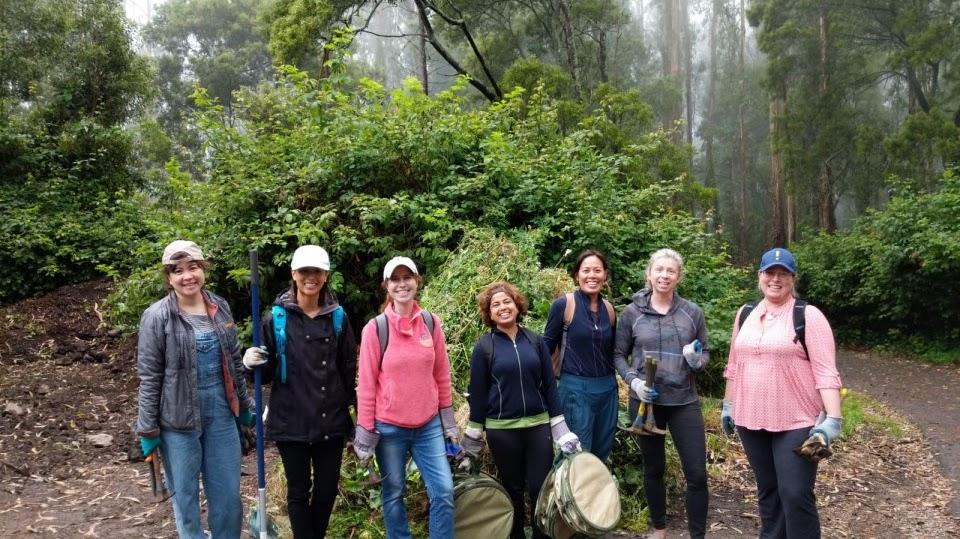 PMI-SFBAC volunteers at Mt. Sutro Open Space Reserve through our Sustainability program
On June 15th of 2019, members of our chapter lent their hands and determination to Sutro Stewards for their ecological stewardship projects. Mt. Sutro Open Space Reserve is a beautiful space to feel inspired. It was foggy and moist and ethereal, reminiscent of a rainforest, but thankfully much cooler. We were split up into two teams, one for trail maintenance and the other for native habitat restoration. After a brief orientation, most of our time was spent getting dirty and working hard. I was on the native habitat restoration team learning which plants were invasive and had to be removed. There were beautiful things, such as geraniums and forget-me-nots, that if left to flourish, push native plants out. Without those native plants, our local wildlife doesn't have its specific food source and declines.
After three hours of this, it was clean-up and lunchtime. We reunited with the trail restoration team, and although they said they had been digging ditches for three hours, they all wore huge smiles. It was a good morning's work and a great way to get to know each other.
Other than our PMPs, we also had in common a love of being outdoors and a let's-do-this attitude. I believe that's all it takes to connect to the extremely broad discipline of sustainability. We can connect our work, our lives, and any small action to the wise use of our resources to limit negative consequences on the planet. We don't have to be perfect about it, but we can all do a little something more. I hope with our chapter's sustainability program that we can enhance our connection with the earth and all its inhabitants, and then channel that into creative solutions in our operational and home practices.
Is there someone in your organization already working on sustainability initiatives? Please let me know at sustainabilitydirector@pmisfbac.org. I'd love to invite her/him to share with us. Let's connect our work to our world. Looking forward to meeting you at the next event, green team!