<< Back
PMI-SFBACOctober 09 2023 at 04:45AM
Volunteer Spotlight - Crystal Ebonrose
Newsletters
Volunteer updates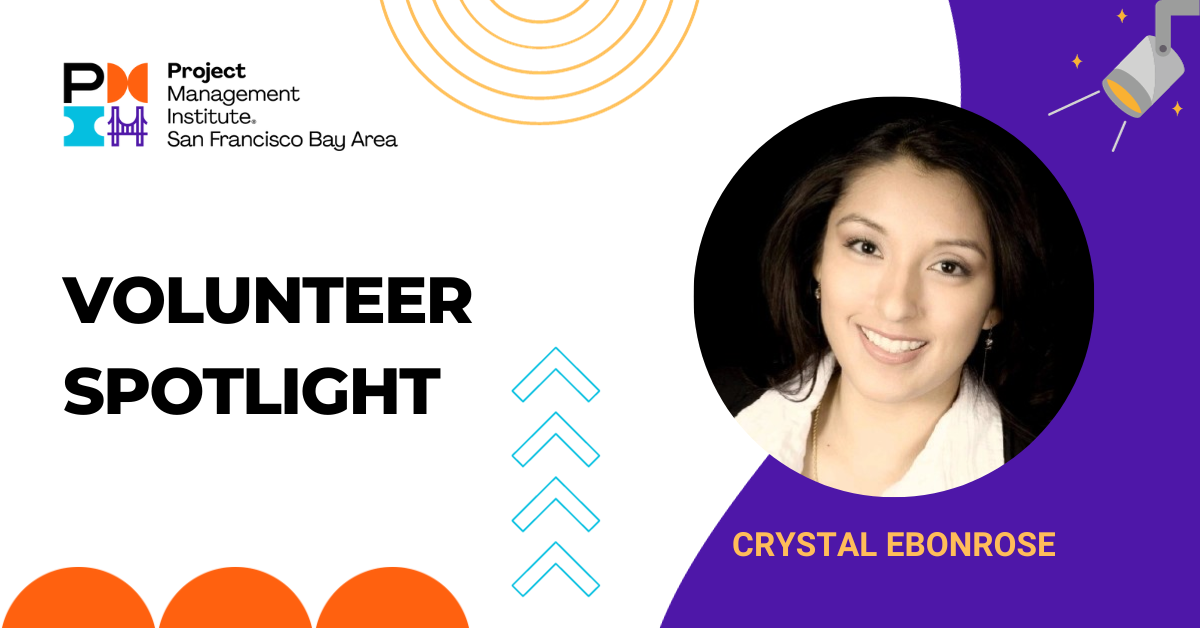 Tell us about yourself and what do you do?
My name is Crystal Ebonrose, and I am a Technical Project Manager with a unique blend of technology and education expertise. My journey began in education, where I swiftly established my reputation through unwavering dedication and adept leadership. Over time, I realized my innate ability to drive projects to success, particularly in technology and innovation.
Illustrating this, I led a visionary project before the pandemic—revitalizing the outdated curriculum at SJUSD. I orchestrated a comprehensive feasibility study, enlisted partners, and negotiated collaboration. The 10-month project catalyzed a transformative shift, sparking digitization and a remarkable 300% boost in technology offerings.
How did you become a Technical Project Manager?
My path into project management started during my educational journey. Excelling in educational roles, I gained recognition for my leadership and execution abilities. As I progressed, a deep-seated passion emerged for orchestrating projects from concept to realization—especially those imbued with innovation and technology. However, the true tipping point occurred when I enrolled in the prestigious UC Berkeley Bootcamp for Technical Project Management.
Through this immersive experience, I had an epiphany—the principles and practices I had instinctively honed over time harmonized seamlessly with the formal methodologies of project management.  I was surprised how effortlessly I was bridging the gaps between these two industries and their respective terminologies.  This revelation not only affirmed my trajectory but also provided the structured foundation needed to excel in the field.
How did you transition from the education sector to the private domain?
A transformative endeavor marked my transition from education to the private sector. During my enrollment in UC Berkeley Extension's Technical Project Management Program, I volunteered with non-profit organizations, including PMI-San Francisco Bay Area Chapter (PMI-SFBAC), exploring the application of my project management skills in a new context. Through this engagement, I gained valuable insights into the versatility of project management across industries. Notably, I led a significant transformation within PMI-Silicon Valley by implementing Slack to revolutionize communication dynamics, resulting in improved collaboration and efficiency.  At PMI-SFBAC, I became the Instruction and Training Project Manager, collaborating with Anup Depshande and Carin Kaltschmidt to create training modules on Agile methods and presentation dynamism.  Now, I am excited to extend my project management acumen at PMI-SFBAC as the Technical Project Manager for their website, and the Podcast Producer for their Mentorship Program.  
Who is Crystal Ebonrose at home and/or outside of the professional space? What do you do for fun?
Apart from my role as a Technical Project Manager, I wear many hats—I'm a wife, a sister, a daughter, and a friend. Beyond work, you'll often find me indulging my love for travel and the arts.
Traveling is my way of connecting with the world. I've been fortunate enough to explore more than 60 countries, and I've become quite the expert at traveling on a budget. I love finding great deals and immersing myself in local cultures wherever I go. One of my most cherished travel memories is from Southern Africa, where I had the incredible experience of camping in Botswana. During that trip, I was lucky enough to spot a wild dog—an endangered species that's rarely seen, even by locals.
Another passion of mine is art. Whenever I visit a new place, I make it a point to visit the local art museum. I find that art provides a unique window into a culture's history and values, and it's a wonderful way to connect with a place on a deeper level.
What are three things you would suggest to someone who wants to get into the field of Project Management?
Embarking on a journey into Project Management requires a thoughtful approach—here are three pivotal steps to guide you:
Self-Awareness and Purpose:

Begin by delving into your motivations. Understand why you're drawn to this dynamic field. This clarity of purpose will not only guide your path but also fuel your commitment in the face of challenges.

Strategic Networking:

Forge connections that resonate with your aspirations. Surround yourself with individuals entrenched in the realm of Project Management. Seek out opportunities to connect meaningfully, leveraging avenues such as volunteering and active participation in professional communities. These connections can serve as invaluable sources of guidance, insight, and potential collaboration.

Skill Enhancement:

Evaluate your skill set critically. Identify areas where gaps might be—whether in soft skills or technical competencies. Proactively address these gaps through concerted efforts. Engage in volunteer projects, participate in mentorship programs, and invest in educational and professional development initiatives. This proactive approach ensures you're equipped with the multifaceted skills demanded by the project management landscape.
How did you hear about the PMI SFBAC, and what made you decide to volunteer?
My introduction to PMI-SFBAC came through one of my professors, who invited a seasoned PMI professional to share the manifold advantages of being part of this esteemed organization. Given my transition across career sectors, it became evident that affiliating with PMI-SFBAC would be a potent means to rejuvenate my network while fostering active engagement within the project management sphere. I'm pleased to share that my decision to get involved was profoundly rewarding. The journey has connected me with a remarkable community of talented and dedicated individuals, all striving to propel this organization to new heights while enriching our broader community.
Share a fun fact about yourself. 
I hold an Open Water Professional Association of Diving Instruction (PADI) certification, with my most substantial dive reaching a depth of 90 feet. Among my diving experiences, a particularly notable one was drift diving along Fiji's Rainbow Reef. This immersive encounter took place during a five-day cruise aboard a catamaran and remains etched as a vivid and cherished memory.
Is there someone at PMI-SFBAC who has made an impact on your career? (who? Why? how?)
One individual at PMI-SFBAC who has profoundly influenced my career trajectory is Carin Kaltschmidt. Not only does she possess a wealth of experience and knowledge, but she also excels as a branding expert. Personal branding was a novel endeavor for me, given that my career's progression had naturally been propelled by the resonance of my work, results, and unwavering commitment to excellence. This track record had consistently paved the way for opportunities, rendering deliberate personal branding unnecessary.
My transition into a new professional realm, where my established network was limited, necessitated a paradigm shift. I had to acquire the skills to brand myself effectively. In this endeavor, Carin emerged as an invaluable mentor. Her guidance has been pivotal in acquainting me with the intricacies of personal branding—offering insights, coaching, and a structured process. I am profoundly grateful for her generous assistance throughout this transformative journey. Her expertise has not only facilitated my integration into a new field but has also instilled in me the vital skill of crafting a compelling personal brand.