<< Back to Calendar
Leading Digital Transformations – How to Go Beyond "Being Agile"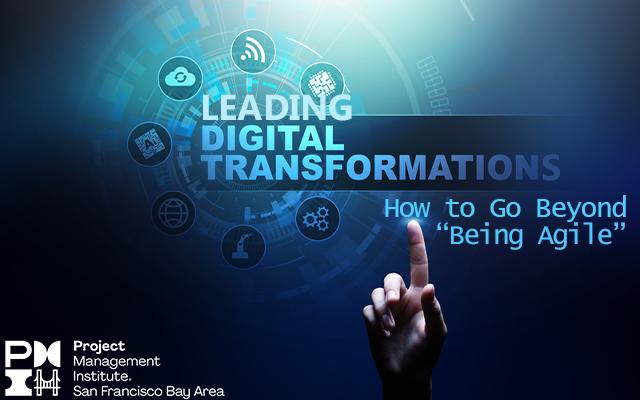 Event Prerequisites:

NA

Event Structure:

60 mins Lunch break at 12 PM

Who Should Attend:

Project managers who want to strengthen their project LEADERSHIP. Experienced project leaders who want to refresh their inspiration and commitment to leading people and teams.

PDUs for Event:

7 PDUs: 1 Technical; 5 Leadership; 1 Strategic

Event Description:

Digital technologies are commonly described as "disruptive." As Clayton Christensen, the deceased HBS professor who created the term has argued, this blanket statement is not true. Worse yet, using the term casually keeps users from exploring how they can use digital technologies to redefine organizations. This full day Zoom class will identify what digital technologies actually do and the assumptions executives make that lead to colossal failures. It will provide guidance on questions and steps that can help structure projects for success.

What you will learn:

A deeper understanding of how to lead digital transformation efforts, going beyond hackneyed descriptions like "create a multi-sided platform." The class will present seven specific paths project managers should consider when leading or participating in any digital transformation project. It will also identify the "Five Assumptions" executives make about digital technologies; each of these has led to spectacular failures that hit the headlines.
Event Objectives:

Learn the seven principals of digital technologies
Experience and understand the transformations by digital technologies
Discuss the issues and work on small group exercises.
Apply your learnings and insights into your daily work.
About theSpeaker:
 

Amit Mukherjee

Amit has, for decades, worked at the intersection of leadership, technology, and strategy. His new book, "Leading in the Digital World: How to Foster Creativity, Collaboration, and Inclusivity" (April 2020) appears in the "Management on the Cutting Edge" series that MIT Press curates with the Sloan Management Review. Calling it a "canny manual," Publishers Weekly noted, "Among the welter of books claiming to direct leaders in the digital age, Mukherjee's swiftly executed, neatly encapsulated view … is specifically focused enough to deliver value …" HBS Alumni News commended it for "Offering a radical rethinking of leadership." His prior book, The Spider's Strategy, was named "One of the 30 best business books of 2009." He has also published articles in the Sloan Management Review, Harvard Business Review, Forbes and other practitioner-oriented media, and two heavily cited papers in the top academic journal, Management Science. Amit has taught well over 100 executive education programs, having co-designed many. Companies like FedEx, Nielsen, Johnson & Johnson, and ConAgra Foods commissioned them for their Directors, Vice Presidents, and Senior Vice Presidents. For two decades, Amit worked outside academia leading, co-leading, or advising major multi-organization "can't be done" digital and non-digital technology projects. As the Chief Technology & Strategy Officer of a NASDAQ-listed, digital technology company (TurboChef), he oversaw the launch of a key product while guiding the development of its next-generation version. As a practice leader in two consulting companies (Arthur D. Little, and Forrester Research) and co-founder of Ishan, he also advised CEOs/CXOs of companies like Bloomberg, Johnson & Johnson, Dunkin' Brands, and SAP. Amit teaches leadership, strategy and technology courses in Hult's EMBA, MBA and dual degree (Master's in Managing Disruptive Innovation) programs and for its Ashridge Executive Education unit. Most recently, as Professor of Leadership and Strategy at IMD, the executive education-focused Swiss school, Amit taught in open programs (e.g., Orchestrating Winning Performance, Transition to Business Leadership, Leading Digital Transformations and The Next Generation) and in custom programs for institutions like Bank Indonesia (the country's central bank) and SIDC (Malaysia's securities commission). Earlier, he held visiting positions at Babson College. He began his academic career teaching in the Executive, MBA, and Ph.D. programs at INSEAD. Amit's Doctorate in Business Administration is from the Harvard Business School, MBA from the Darden School/University of Virginia, and undergraduate engineering degree from BITS Pilani (India). He has lived in five countries and has worked in many more.
Cancellation and No-Show Policy
If you have made a reservation and find that you will be unable to attend, please send an email to cfo@pmisfbac.org and cancel your ticket as early as possible. All cancellations are subject to a minimum $40 fee if done during the early bird period. Cancellations after the early bird or event starts are subject to full charge to ensure the Chapter does not incur excessive expenses. All refunds will be issued after two credit card billing cycles.
Register to this event