<< Back
Jean LombardSeptember 08 2022 at 12:00AM
Sep 2022 | Acta Non Verba Volunteer Farm Day - August Stewardship Event Sponsored by the PMI-SFBAC Sustainability Program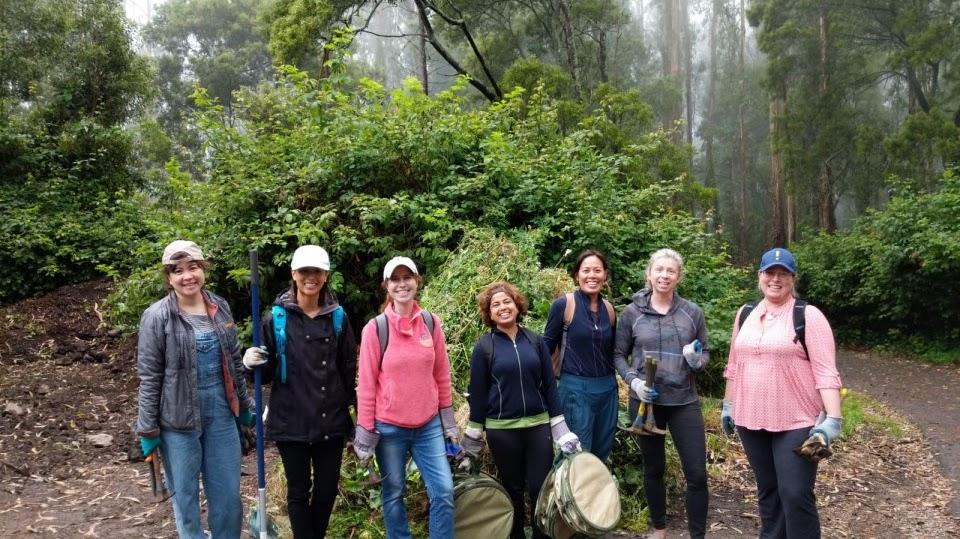 Acta Non Verba is a shining oasis in the midst of what some have described as a food desert in East Oakland. Headquartered near the Oakland coliseum, Acta Non Verba (dba ANVfarm.org) is the nonprofit behind 3 sustainable Oakland-based community farms whose mission is to introduce low-income residents to how to farm fresh, nutritious fruits and vegetables from seed to harvest.
In early August, PMI-SFBAC members had hands-on, front row seats to ANV (as it is called) when we recently visited for one of the organization's Volunteer Farm Days.
Organized, led and promoted by PMI-SFBAC 'Green Team' members Ina Acuña, Doug Hahn, Margaret Au, and Samantha Moy, PMI-SFBAC volunteers claimed their spots by returning a Release of Liability Waiver a few days prior to the event, then arrived Saturday August 6 at Acta Non Verba's Tassafaronga Farm located in Tassafaronga Park at 1001 83rd Ave. Oakland, CA.  As was evident at the PMI-SFBAC Green Team's prior Kids Against Hunger volunteer event in May, PMI-SFBAC volunteers again represented a multi-cultural mix across ages and professions, and I looked forward to getting to know my fellow chapter volunteers under the sunny skies of this quarter acre farm. 
After we'd seamlessly checked in via phone scan and assembled, ANV Farm Manager Marisa Johnson outlined the 3 major duties she needed our help tackling -- either: 1. Replacing existing vegetable beds, or 2. Weeding or 3. Composting. Next we separated on the quarter acre farm into one of the three teams. 
I elected to join the Replacing Vegetable Beds Boards team. First order of work: Remove and stack lumber from a nearby pickup truck onto picnic tables inside the farm's perimeter, for revising via an intrepid PMI member's use of a table saw to deliver customized board fits.  From there it was a satisfying team effort to dig up and remove the old deteriorating wood from each of Tassafaronga Farm's 19 oblong garden beds' perimeters, then pound freshly cut customized-sized boards back into them. (I could immediately see the need for having signed the Liability Waiver when a fellow volunteer's wayward 2 x 8 board inadvertently grazed my leg. No question we were in for PMI Giving Back through a day of physical labor. :)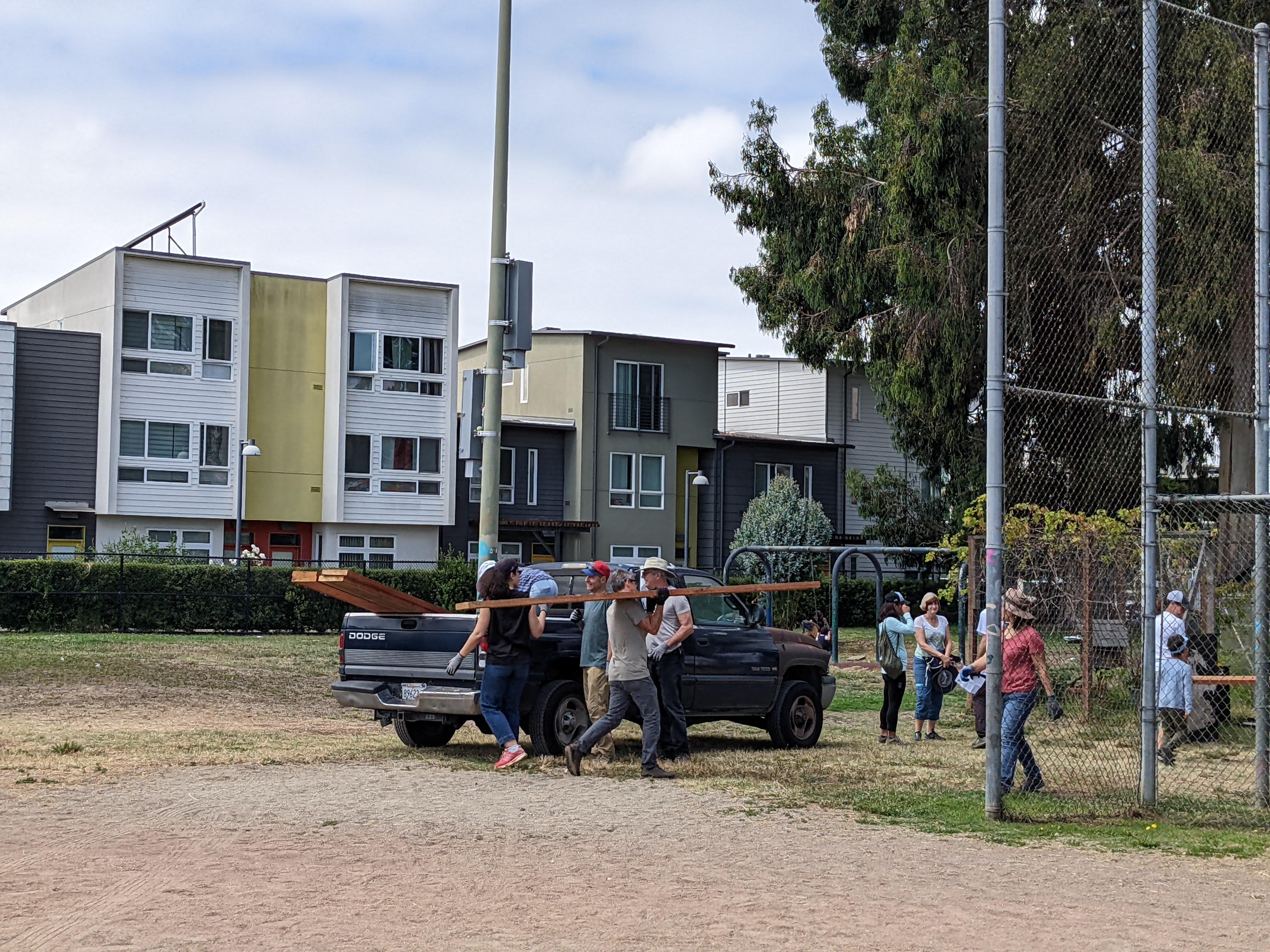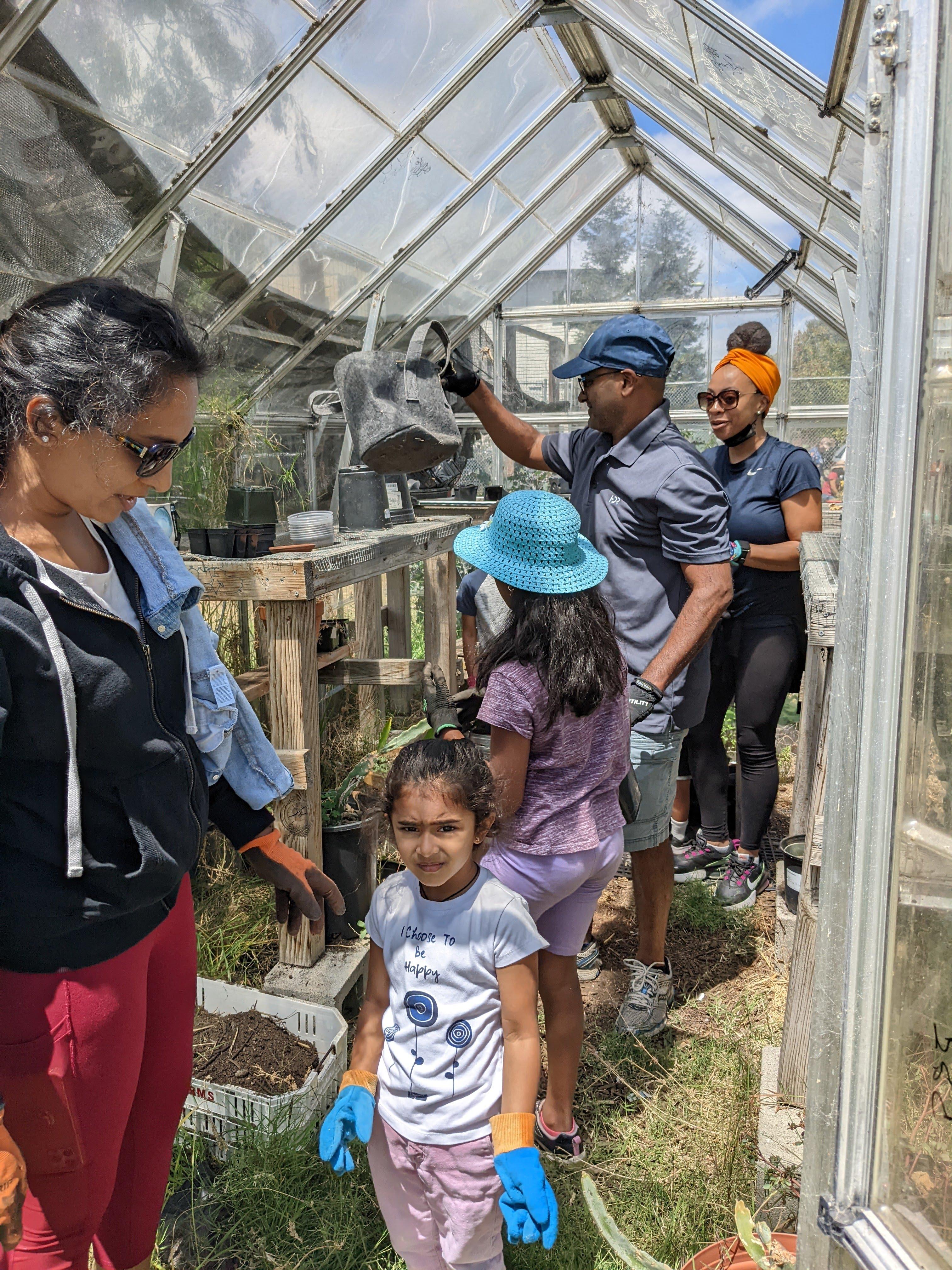 In the meantime, the Weeding team became agile and active, taking initiative in the absence of the old garden bed boards to eradicate unwanted invaders' roots that had grown among the growing crops and which had also contributed to faster bed board rotting. 
The Composting team members likewise were quite active.  Because none of 3 ANV's three farm locations uses pesticides, the careful compost created at each farm makes for organic nitrogen-rich soil with which to nurture the fruits and vegetables. That team could be seen moving and churning in fresh compost-bound clippings into existing compost beds and seemed to be enjoying the zen in their good work. 
After several hours, team members took a break for refreshment at picnic tables under the shade of Tassafaronga's trees; snacks were supplied courtesy of the Green Team's annual budget. At this point I got a chance to gather a bit more information from Marisa Johnson about how ANV's Tassafaronga Farm operates. 
"It is a really productive day of beautifying Tassafaronga Farm in the middle of our peak summer season. The PMI-SFBAC's chapter work today - for example replacing the garden bed boards with fresh redwood lumber will extend another 10 more years of life into the beds, and compost turnover will be used for the Fall season for conversion into active soil in the spring planting," said Johnson.
"Every First Saturday of the month is Community Farm Day - to which PMI and other groups come as volunteers, and we appreciate your enthusiasm and assistance. During the week, residents whose homes are across the street from Tassafaronga Park take on volunteer duties Mondays, Wednesdays and Fridays from 2-5pm for ongoing maintenance.  Similarly, at our affiliated ANV WOW Farm on Lewis Street in Oakland and at our 1/8 Acre A's Farm in the Oakland Coliseum, nearby residents take on volunteer duties to ensure ongoing farm maintenance and to instill a personal sense of investment as they contribute their efforts," continued Johnson.
The August 6th PMI-SFBAC Community Farm Volunteer day at Tassafaronga Farm tells only part of the success story that is Acta Non Verba. Founded and led by Kelly Carlisle, operated by Deputy Director Aaron de la Cerda, and led mainly by women of color from the surrounding neighborhood and larger community, ANV creates a safe and creative outdoor space for children, youth, and families in East Oakland, CA where they can to engage and strengthen their understanding of nutrition, food production, the natural world and healthy living.
ANV welcomes your financial donations to support their youth programming and distribution of fresh produce to neighbors as well as donations to their Wish List which can be found on the ANV website anvfarm.org. ANV also welcomes inquiries from organizations seeking to lend Community Farm  Days support, which are held every First Saturday of each month.
To reach Deputy Director Aaron de la Cerda or Marisa Johnson, please email them at marisa@anvfarm.org or 

Note from VP Sustainability: Join us for our September 28 event, a joint program with the Silicon Valley Chapter, to learn what Foster City is doing to meet sea level rise predictions.