<< Back
Arjun PetapermalApril 14 2023 at 09:10PM
Announcing the Spring 2023 Next Generation Leaders (NGL) Program
Board announcements
Events
Join the Jam
The Next Generation Leaders (NGL) team is on a mission to bring together the next generation of students and professionals, through its unique experiential learning Let's Jam challenge, designed to foster innovation, excellence, camaraderie, and professionalism in the next generation of leaders. We aim to empower these NGLs by giving them the opportunity to build hands-on career-lifting experience and professional networking.
⇒ Want to be part of our contending teams? Join as a coach?
Registration starts April 22, so stay tuned!
This edition of Let's Jam will feature a Product Development UI/UX Challenge, a Data Analytics track, and an exciting brand-new Digital Marketing track for a chance to win awards judged by our own SharkTank-style industry panel.
Participants will form teams that include students and professionals seeking career development opportunities.
Coaches and judge panelists include experienced professionals across industries.
Teams will be guided and mentored by industry specialists, where they collaborate and create real-life solutions in user experience, data analytics, and product app development.
Teams gain access to innovative technology environments and collaboration tools that enable a memorable and unique experience for participants to explore and learn.
This Let's Jam Cohort spans 6 weeks between 06/10/2022 - 07/23/2022 with an average contribution of about 6 hours per week.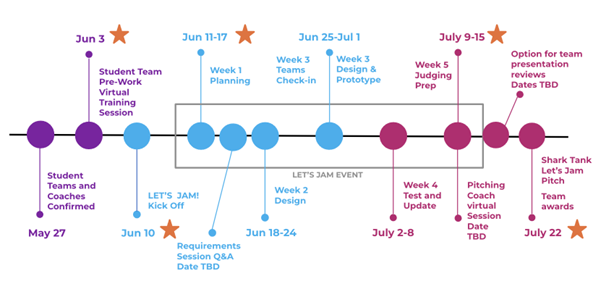 The dream team
Carin, Co-Founder and VP of the NGL Program, will continue leading the program and oversee the strategic vision and its execution through the Let's Jam Challenge 2023 alongside the co-lead and with the help of the entire team.
Carin Kaltschmidt has built a successful 20-year career as a leader at EY and KPMG Consulting. She empowers global businesses to innovate their operations, implement cutting-edge technology and transform their workforce. She enables powerful shifts in awareness by establishing a deep connection and belonging with others. Her passion is maximizing others' potential through mentoring, coaching, and consulting. She guides others in discovering their unique talents and empowers them to thrive in their career journey. Carin leverages the breadth and depth of her digital transformation and program management experience to equip the next generation of leaders.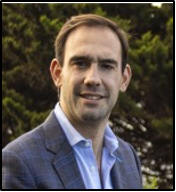 Pablo, Co-Founder and NGL Program Co-lead, will empower team members and impart his knowledge and experience with the program to our new team, ensuring the very best experience possible for our coaches and our participants.
Pablo has 6+ years of experience principally as a Growth Project Manager, promoted to Management Consultant in a pharmaceutical franchisor group in the healthcare industry in Mexico and leading project initiatives in all areas of the business; from restructuring operations, and IT processes, staff/evaluation, and functions design, to implementing Sales expansion programs. Through these experiences, he has managed to build meaningful, honest, and productive relationships with stakeholders, under high-performance, fast-paced, and international teams. He is passionate about learning and increasing his capability to adapt quickly by staying organized and communicating effectively.
Arjun (Myself), Co-Founder and NGL Communications Manager, Program Advisor, will handle the registrations of students, coaches, and judges, surveys and official communication on behalf of the program, as well as bring support to all teams on the scoping and execution of their projects, based on the 2022 edition key takeaways and his own professional expertise.
Arjun is an accomplished Project Manager with over 8 years of experience in leading cross-functional teams in various industries such as Nuclear, Aerospace and Defense, Pharma, and IT. He specializes in partnerships, PMO, strategy, data and business analysis, business development, financial planning, and forecasting. Arjun is committed to creating value for clients, promoting sustainability, and establishing long-term relationships to increase revenue potential. He enjoys coffee, hiking, and singing, and cooking serves as his stress reliever. Arjun stays active by playing tennis during his free time.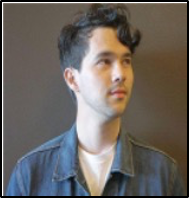 Patrick, Program Execution Coordinator, will head program coordination efforts, ensuring smooth development and communication for all team members, online and offline.
Patrick graduated from Chaminade University in 2014 with a B.A. in Business Administration. He's spent over 7 years cultivating his skills in administrative work before turning his eye towards Project Management. He got his CAPM in 2021 and is now applying the skills he learned to the test. He also enjoys board games, video games, exercise, and spending time with friends.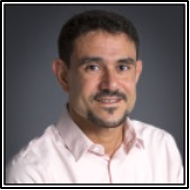 Guillaume is our new Outreach Project Manager, and is in charge of universities, participants, coaches, and judges' engagement, from registration until the very completion of the challenge.
Guillaume was born in Ivory Coast and moved to the United States about 17 years ago. With a technical background, he is an Information Systems professor at San Francisco State University. As teaching requires management skills, he developed a strong interest in the field and decided to join the PMI San Francisco Bay Area chapter. His PM experience includes keeping his 3 cats alive for 10+ years and he enjoys working out and staying active.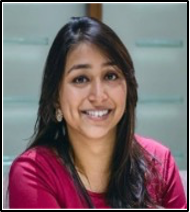 Preet, Event Project Manager, is responsible for Planning, Execution, Coordination, Mail Communications, organizing and animating Check Points and Retrospectives, and gathering team feedback overall.
Preet is a digital media marketing and designing agency professional, boasting over 5 years of experience and a  passion for team leadership in event planning and execution. She is an accomplished and proactive problem solver who will not hesitate to help her teammates on achieving project goals. She is a self-motivated, highly organized, detail-oriented, and approachable leader. On the flip side, she is a foodie, culinary explorer, and amateur chef. She loves adventure, and traveling and is fond of discovering new cultures. With her drive, passion, and curiosity, Preet is sure to bring an energetic and innovative perspective to any project or team she works with.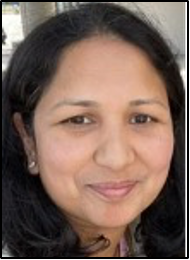 Geetha, Program Manager, will manage program planning, overall program success and monitoring, as well as volunteer management and onboarding.
Geetha is an experienced professional in enterprise SaaS release management, with expertise in release processes, readiness, CI/CD, SaaS, OCI, and DevOps. She is well-versed in technical program management, SAFe Agile, Agile Scrum, and Lean processes. Geetha is a PMI PMP-certified Agile coach with a strong background in SaaS product development. With a proven track record in product development and delivery, Geetha has extensive experience in planning, prototyping, documentation, engineering, testing, feature management, and software delivery. She is also adept at customer issue triaging and end-user training, making her an invaluable asset to any team.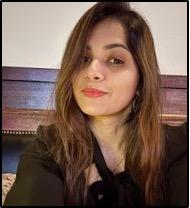 Shraddha, Technology & Tools Project Manager, will work cross-functionally to gain an understanding of the problem requirements from the Product Team and leverage the NGL Program Leadership and determine the best tool for the NGL Cohort to utilize for collaboration in the program and competition events. Her responsibilities also revolve around liaising with NGL clients (PMI) to discuss their needs and preferences, coordinating with various departments to gather and analyze data, identifying weak areas, and recommending solutions through new processes and policies. Her expertise lies in ITIL process improvements and governance leading cross-functional teams to deliver project objectives on time.
She has a passion for professional development and growth, and making a positive impact on the community via dedicated support to a non-profit organization. She likes to keep herself fit and active. She is very passionate about dance/music and loves to travel. She also enjoys spending time with friends and family.
We encourage all our members to visit our website (https://pmisfbac.org/next-generation-leaders), where you can find information about our program and Let's Jam.
Finally, if you are interested in contributing your time and skills to the program, please do not hesitate to contact us.