<< Back
Vic PassionFebruary 13 2023 at 05:00PM
Drones and Dumping: Using Tech to Keep Cities Green

I have lived in and visited places at both ends of the public cleanliness spectrum, from famously clean Germany (my home for the last six years) to naturally gorgeous yet trash-strewn third-world countries. I have also observed that there can be piles of trash just a block away from pristine tourist destinations, implying that the effort to clean up for tourists extends as far as necessary – and not a block further.
January's event, Drones & Dumping, delivered by Brian Johnson of West Coast Dynamics, brought these memories to light. 
My daughter and I had volunteered to pick up trash in the San Francisco Bay area's Bayview neighborhood with the PMI-SFBAC Sustainability team  in the fall of 2022. We witnessed the determination of the neighborhood residents to deal with the trash, only to see it return. Brian's efforts to locate and report trash dumping with his drones in the Bayview illustrate how huge the problem is.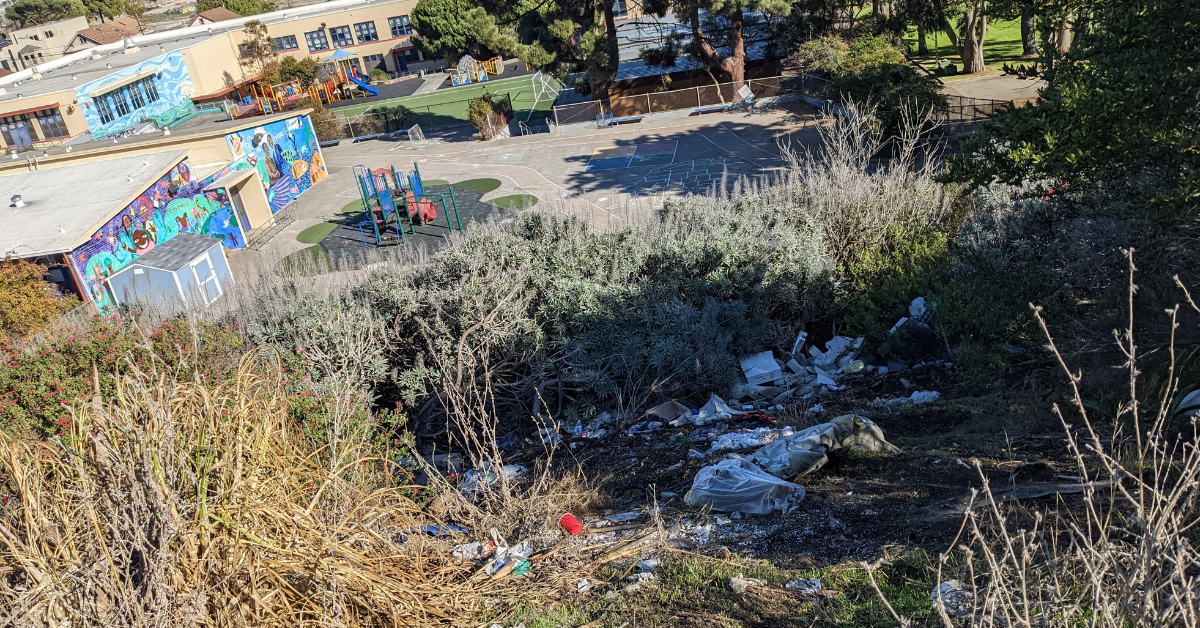 The numbers are hard to ignore: Every month, in San Francisco, there are 10,000 reports of dumping, equaling 2,000 tons of trash. And the trash, as my daughter and I saw, is not simply bottles and cans; rather, it can also be disturbing trash that can't be good for the neighborhood, the humans and the pets that live there. The Department of Public Works (DPW), despite its desire to be responsive, is overwhelmed and struggles to prioritize the trash reports.
Brian's story elicited emotions for me. Homeowners care for their homes and families, carefully cleaning up their properties. These families have no control over the people dumping trash in their neighborhoods. As Brian explains, his drones can take images of the offenders, but it is unknown whether they are residents of the neighborhood or simply visiting to leave their trash behind.
Homeowners must wonder what the trash is doing to their property values. I imagine that the stress of working to maintain a home in a never-ending battle with trash wears down families. On a larger scale, the Bayview neighborhood, which has amazing views, is probably underappreciated. Imagine how much more popular this neighborhood could be if the trash problem were solved. 
As Brian suggested, the solution to the problem is not just through better reporting of trash. There are multiple factors at play: DPW's limited resources, ineffectiveness of ticketing and enforcement, inability to identify offenders, the sheer scale of the number of dump sites and so on. Answer the following questions would help:
What drives offenders to dump trash in a neighborhood? Is the cost of legally dumping too high? Is the process so complicated that it is easier to dump trash?

Why is the Bayview such a popular dumping ground? It would be great to know where the majority of the trash comes from. Is it a nearby neighborhood? Is there a problem that drives those residents to dump in the Bayview?

Is there a way that DPW can proactively address the issue, instead of spending so many resources on collecting trash in the dump sites?
A fundamental question I have is about our culture: What causes the Japanese to spotlessly clean up their section of the sports arena – and what causes some Americans to stop at a red light and empty their car's trash can on the pavement? Is culture at play with the trash problems that Brian is trying to solve? Or is it simply the challenges of trying to survive in a place as expensive as the San Francisco Bay area – where disposing of trash might be the least of a person's worries?
I am thankful to have heard about Brian's efforts to solve the trash issue – and for the lively discussion that ensued. I wish Brian luck. He brings creativity, mean tech skills and tenacity to a thorny issue. Thanks, Brian, for sharing this important topic with our group.
—-------------------------------------------------------------------------------------
Note from VP Sustainability: Note from VP Sustainability: As you know, all of the registration fees for Sustainability Program events go towards environmental/community stewardship. Thank you to our extended Green Team participants for attending our events; with your support, we were able to donate $1500 towards Syria/Turkey earthquake relief.
Join us March 15 as we welcome back Joel Carboni of Green Project Management. He will talk to us about the latest collaboration between PMI and GPM, the GPM-b certification.