<< Back
Vic PassionApril 04 2023 at 12:00AM
Event Recap: All about the Certified Green Project Manager — Level B (GPM-bTM)
Newsletters
Blogs
Sustainability
Events
Event Recap: All about the Certified Green Project Manager — Level B (GPM-bTM)
As a project manager, perhaps you have felt that the project-management profession isn't doing enough to combat climate change. In a recent study by GPM, titled Insights on Sustainable Project Management, 100% of the executives surveyed believe that project managers should understand how important sustainability is to their projects. Maybe you have even worked on a project that was affected by extreme weather events due to climate change. In either case, you most likely wondered what you need to do professionally to move the sustainability needle.
Joel Carboni, founder of GPM Global, spoke for the PMI San Francisco Bay Area Chapter Sustainability program about the Green Project Manager certification, also called the GPM-bTM.  The recent collaboration between GPM and PMI, a combo offering of training plus the certification, gives you the opportunity to bring sustainability to the forefront in your projects and upskill yourself to make a real-world impact. Over 23,000 people have earned the certification, and the number continues to grow.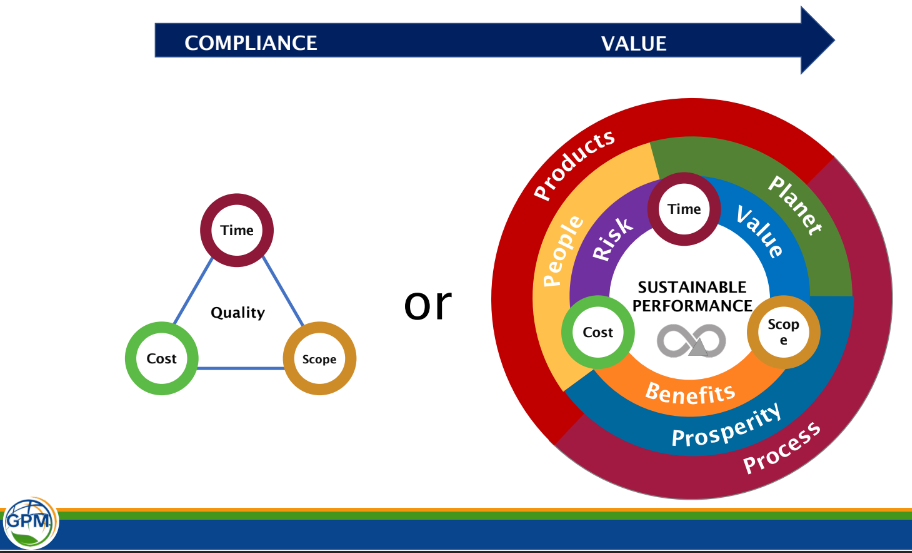 Whether you have a personal interest in sustainability or not, this is an issue that needs your attention. Based on a Reuters article, enforcement of environmental, social and governance (ESG) claims is on the rise. Companies need to be able to back up any ESG claims with data so that they are not charged with ESG misstatements. It's a good practice to review your project contracts with an eye for commitments related to ESG, such as not using child labor, proper management of project waste or the requirement to hire disadvantaged workers. As a project manager, you need to be aware of your ESG goals.
When project managers are tasked with proving that they have met an ESG goal, the challenge is in quantifying and measuring the goal. That is where The GPM P5 Standard for Sustainability in Project Management, version 3 comes in. It breaks sustainability into three impact categories, each with subcategories: people (for example, harassment and discrimination), planet (for example, biological diversity) and prosperity (for example, social return on investment). Further, it lets you slice by the product perspective (lifespan and servicing) and project perspective (efficiency, effectiveness and fairness). 
There are two types of ESG reporting: internally driven sustainability reports and externally driven ESG disclosures. In order to track progress, project managers can plan for impact and measure the results. For example, if the impact is customer health and safety, the project manager captures today's score (2), the proposed response (improved signage or safer routing) and, later, the post-response score (3). In this way, project managers can use a data-informed approach to plan for and measure results. This process is an important part of ESG materiality, and you need to get it right. It is also one small piece of the bigger picture of ESG materiality. 
If it sounds like a lot, there is help at hand, namely the GPM-b certification. If you as a project manager agree that we need to do better with sustainability in our projects, then it might be an investment that you are willing to make.
----------------------------------------------------------------------------------------------------

Note from VP Sustainability: Happy Earth Month! This event was recorded. If you're interested in this or any of the other recorded events listed on https://pmisfbac.org/sustainability, send us a note at sustainability@pmisfbac.org.