<< Back
Jean LombardJune 06 2022 at 11:10PM
PMI-SFBAC Sustainability Program's "Kids Against Hunger for Ukraine Meal Packing event"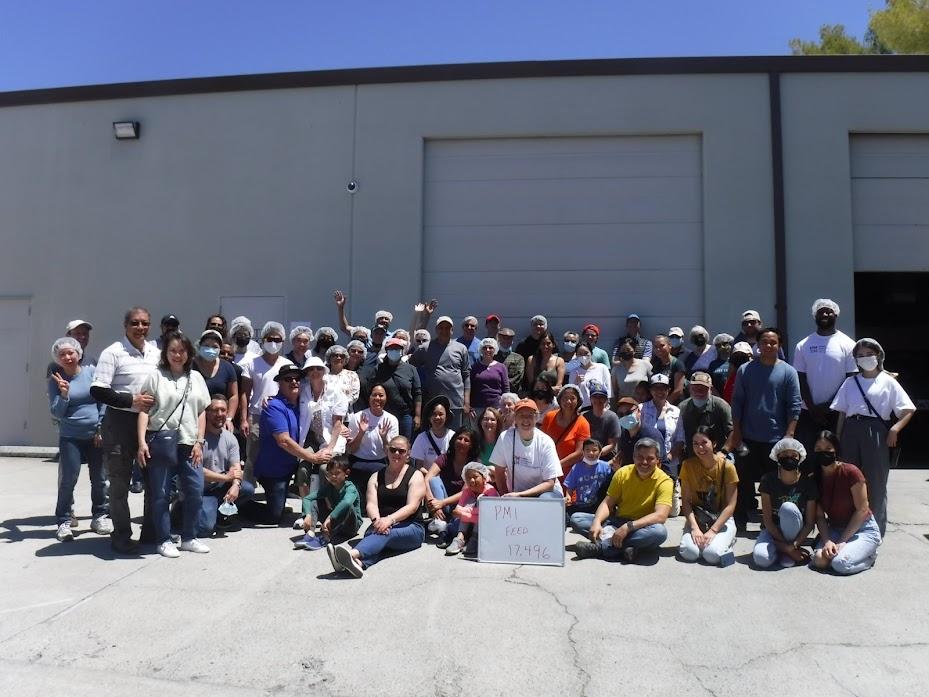 On Saturday May 14, I attended "Leave No One Behind: Food for Ukraine," a dry meals prep volunteer event I'd learned about through PMI-SFBAC LinkedIN posts. I'd been looking for a meaningful, active way to contribute as a PMI member so I immediately registered for free, then submitted my waiver and proof of vaccinations in exchange for the Pleasanton location details. 
I mapped out my route from San Francisco to Pleasanton to ensure sufficient travel time, and was heartened to punctually arrive at the warehouse to take in a multicultural crowd of 67 people at the entrance, dutifully checking in with event organizers - many of whom were sporting PMI or Kids Against Hunger T-Shirts. 
After donning hair nets and hearing verbal bullet points as to what we'd be doing and what to expect, we filed into the facility's hallway. Before entering the food prep area to start our 11:15AM to 1PM shift, we relegated purses and cell phones to a shelving unit, then sanitized our hands and took a spot at one of six food prep tables.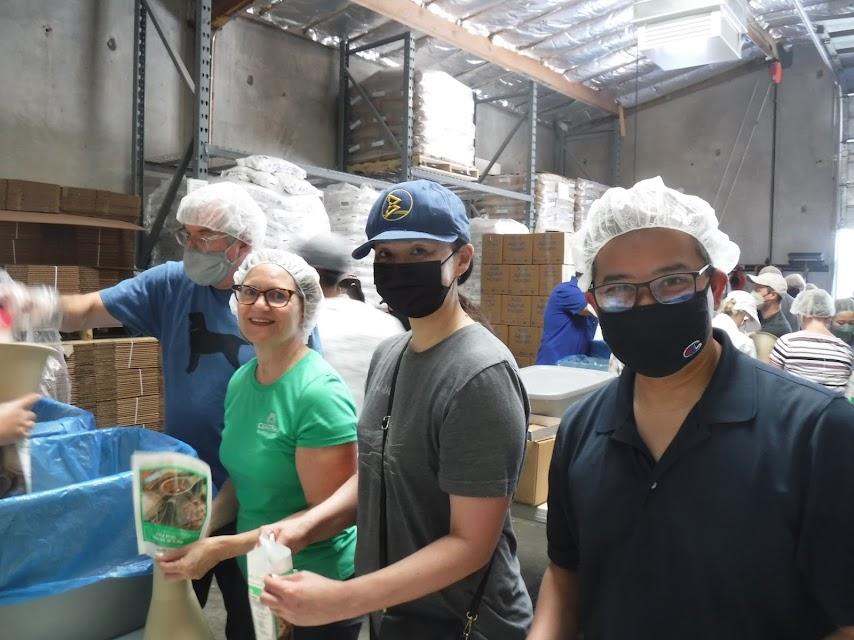 The reality of the six food prep tables was that each person's station was akin to personal space on a Southwest flight, meaning that we had 'just enough' elbow room to take and pass filled bags between each other. Frankly, we could not have been further apart and also completed our assigned jobs correctly, moreover when our team's cadence got going, I never felt cramped for a moment. 
Food prep tables were set up with an Initiation Station at the short end of each table, with one person scooping granulated fortified soy (a texture akin to Grape Nuts cereal) into a 3-ply bag. Each bag seemed sized – to my eye – about 70% larger and taller than a conventional plastic sandwich bag but with a flat bottom, so once it was filled with the initial scoop of soy, each bag was capable of standing up on its own and remaining open for the next load of meal pack ingredients.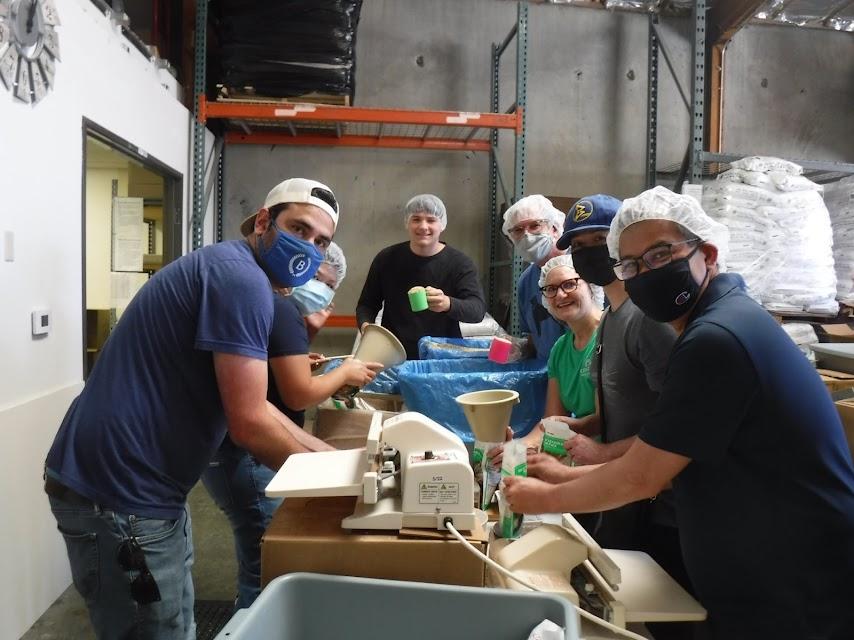 The second person in line down the length of the table - I'll call it the Funnel Station - was armed with a very large scoop to add more ingredients to the bag. Ingredients at the Funnel Station included dehydrated vegetables and powdered nutrients delivered into each bag via a funnel roughly the size of an upside down mini traffic cone. While perhaps inelegant to the eye, the funnel's size and design proved ingenious for rapidly and efficiently filling each bag at absolute minimum waste or spillage. 
The third person was at the Rice and Weigh Station, whose task was to take the Funnel Station bag from their left, add a scoop of rice, then weigh the bag on a scale about the size of a conventional kitchen scale. If the bag was in line with the target weight parameters, the Soy and Weigh person passed the bag to their right to a person at a Sealing station. Occasionally a bag would be a bit over or under weight, in which case the Weigh Station person added or removed a bit of the bag contents.  
Now the final stop on the assembly line: the Sealing Station, where I was stationed. My job was to pick up approved, weighed bags from the left – each of which seemed to me to weigh about as much as a loaded burrito or a large deli sandwich - and position the top edge of the bag into a sealing contraption analogous to a 3-hole punch, but instead of punching holes, its heated units sealed the top edge of the bag. From there I placed each sealed filled Meal Pack into a large bin. 
Because each assembly line role was so simple, rapid and easy to perform, teams soon developed a cadence of about 60 seconds from Rice Scooping start to Sealed Pack finish. Thus at intervals various team members would pop away from their scooping station to transport full bins to a Boxing Station two or three yards away, dump the bin, then return the empty bin to be refilled with more sealed Meal Packs.
Team stations were set up directly across from each other, so as we mastered our job we naturally began to chat to the person next to us or across the table. I found this human interaction of trading scooping or sealing station efficiency tips, life observations and jokes both uplifting and educational; I walked away with at least two new solid professional connections.  
About an hour into our shift we were asked to pause work to watch a Kids Against Hunger explainer video shown on the wall of the warehouse. (This video can be found on the website: https://www.kahbayarea.org/downloads/videos).  This short, moving video shows images of children in Haiti affected by poverty and the 2010 Haiti Earthquake, along with the Kids Against Hunger founder speaking about the organization's founding and global mission.
After the video we took a 10-minute break for a bit of fresh air and water, after which we re-sanitized our hands and resumed our stations until 1PM. I'd heard music playing at low volume the duration of our work; the last 15 minutes of our shift, when we were all experiencing initial whispers of fatigue, the music volume and backbeat seemed to increase a bit to power us across our shift finish line. 
At shift conclusion we filed outside the warehouse to learn our accomplishments: We'd packed 2196 meal packs in just over 90 minutes! Each meal pack, when added to hot water, is sufficient to feed 6 people, so our volunteer efforts for that short, enjoyable shift yielded 17,496 meals. We all agreed this was an incredibly worthy and moving event which could not have been possible without the organizing work and financial sponsorship of PMI-SFBAC's Sustainability Program (aka the Green Team). 
As an outgrowth of the May 14 Kids Against Hunger Volunteer event, I set out to learn more about how this event came about, and to learn more about upcoming PMI-SFBAC Sustainability Program volunteer opportunities.  According to Ina Acuna, VP of Sustainability and the KAH event organizer, "the PMI-SFBay Area Sustainability Program organizes many online speakers and in-person volunteer events throughout the year." 
"Prior to the May 14 event, in-person events have included a Beach Cleanup and an environmental stewardship event in Livermore where the PMI SFBAC Green Team tended to the plantings they did in 2020 to protect the Alameda watershed, among other events. Coming August 6th will be volunteer support for Acta Non Verba Youth Farm, which will be open to 50 chapter volunteers," said Acuna. 
"Upcoming online events include a July 13th Environment, Social, and Governance Reporting speaker and a September 28th Foster City Levee project event in conjunction with PMI-SV chapter," she continued. (Look for details about how to volunteer for the Acta Non Verba Youth Farm event mid-June; look for details about the Foster City Levee joint event with PMI-SV starting late July). 
"I think I can speak on behalf of the PMI-SFBAC Sustainability Team when I state it is a privilege to bring sustainability educators, information and events to our community of more than 2700 chapter members," said Acuna. "I'm happy to report that our PMI-SFBAC Sustainability Program "Green team" roster is currently full and includes Kim Stepney, Seyi Oshinowo, Margaret Au, Samantha Moy and Monica Bible; however the Sustainability Team is always interested in your ideas or connections to policy educators, private industry innovators and speakers, and government organizations that promote sustainable environmental policies and practices, so please reach out to us via email at sustainability@pmisfbac.org."
Links
To volunteer to join an upcoming Kids Against Hunger public meal packing event at the Pleasanton facility or to donate to Kids Against Hunger: www.kahbayarea.org 
To learn more about upcoming PMISF-BAC Green Team events: https://pmisfbac.org/sustainability
To see event photos: https://photos.app.goo.gl/Y4CGV6of5PddzRKw7
To contact the PMI-SFBAC Sustainability team, email sustainability@pmisfbac.org
------
Jean Lombard

She is an accomplished, energetic, conscientious and accountable senior-level Marketing & Communications leader and blockchain professional with experience in emerging technology, Healthcare, Financial Services, SaaS, Big Data, and numerous ICOs