<< Back
Jean LombardNovember 28 2022 at 01:00PM
Nov 2022 | Bayview Beautification Day - Sponsored by the PMI-SFBAC Sustainability Program
Saturday, November 19, under gloriously sunny skies near sweeping views of Candlestick Point, 30 PMI SF-BAC chapter volunteers gathered for Bayview Beautification Day, the Sustainability Team's fifth in-person event of 2022. Much credit for this event goes to PMI SF-BAC Sustainability Team member Doug Hahn, who arranged this outing in coordination with devoted members of the Bay View Hill Neighborhood Association, as well as with nonprofit RefuseRefuse and San Francisco's Department of Public Works.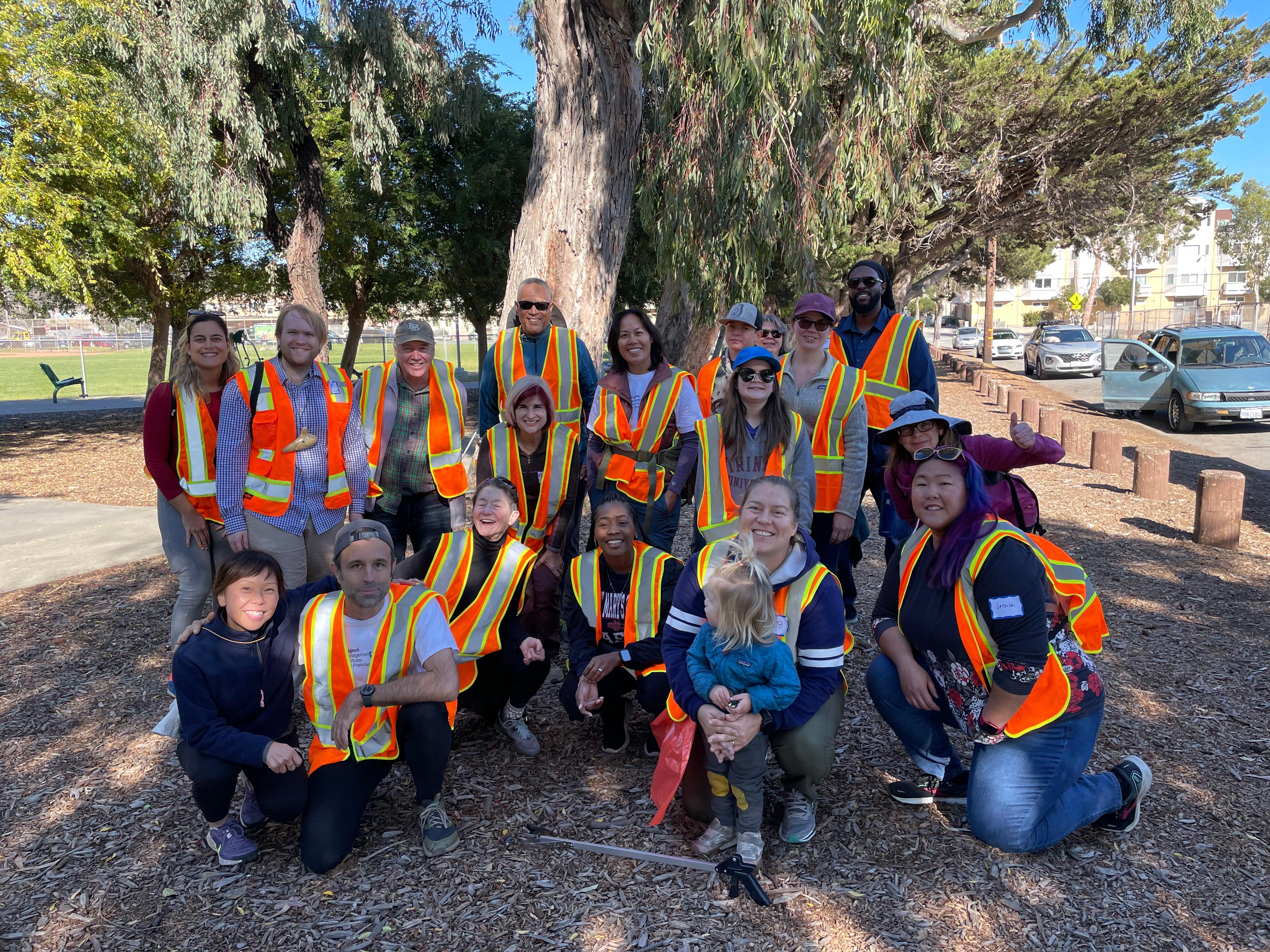 This latest very enjoyable and successful 'Green Team' event attracted 30 volunteers, who - while chatting, getting to know one another, and armed with DPW-supplied trash tongs - traveled 4 routes through Bayview Hunters Point neighborhoods. Throughout the event's 3.5 hours, volunteers collected 150 bags of trash and debris, a record amount for a cleanup event in that area. Trash bag collection was orchestrated by Bayview Hill Neighbors and DPW workers in flatbed pickup trucks who made bag pickups at various intervals throughout the 4 routes.  
If you're reading this as a project management case study, those are the key stats for this event; in addition volunteers earned 2 PDUs.  
But the real story is the way the PMI SF-BAC's Sustainability Team (aka the Green Team) worked to coordinate with three different entities to bring this into reality and to make it a model for other PMI Green Teams around the U.S.
As context, the SF-BAC Green Team's mission is to engage the greater community in which the chapter operates in environmental stewardship projects using a measurable metric of volunteer contribution. So at the conclusion of the November 19 event, not only did Bayview Hill neighbors notice their streets' remarkable cleanliness, chapter members took away new understanding of the factors influencing why the Bayview / Candlestick Point location is so vulnerable.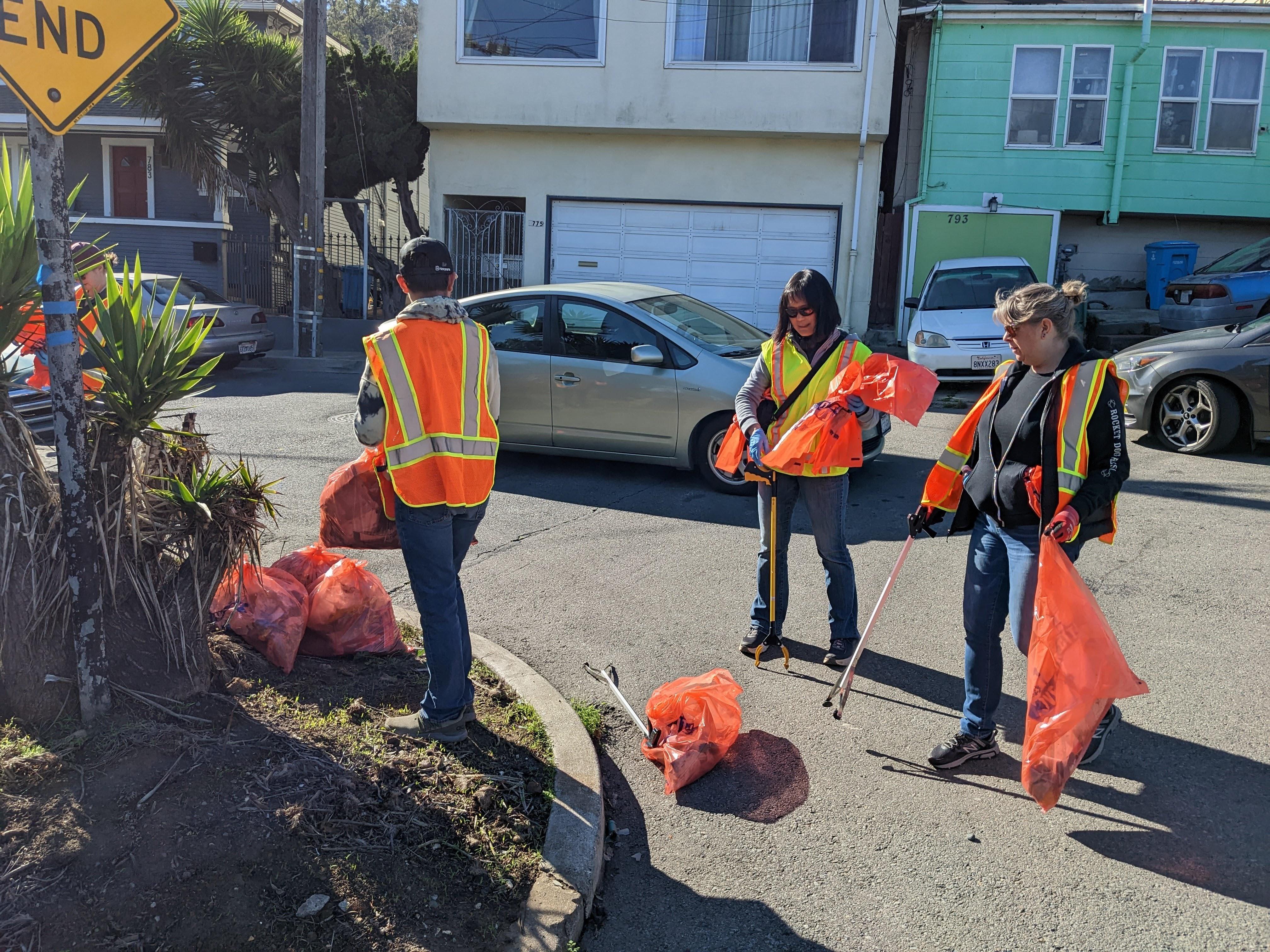 Said Bayview Hill Neighborhood Association Member Barb Tassa, who began participating in neighborhood cleanups in January 2022, "Conscientious residents here are aware that because of its somewhat secluded location, wrongdoers travel here to engage in illegal dumping, creating trash and safety concerns literally in our Bayview backyards.  We try to hold regular cleanup Saturdays, which typically attract 6 to 15 people, so to have 30 SF-BAC chapter volunteers show up to support our Bayview Hill neighbors was terrific and memorable."
Said Green Team event organizer Doug Hahn "The November 19th Bayview Beautification Day aligned perfectly with our mission to inform and educate SF-BAC chapter members about how to improve sustainability practices, then leverage the power of volunteer numbers to make positive impacts on the people, communities and organizations around us." 
"Going to cleanups in different neighborhoods is an enjoyable way to meet people with different backgrounds and life stories, so I always bring my kids too, in order to get them actively participating in what I want to model as a parent:  Taking care of the earth, and enhancing our communities," said Tassa.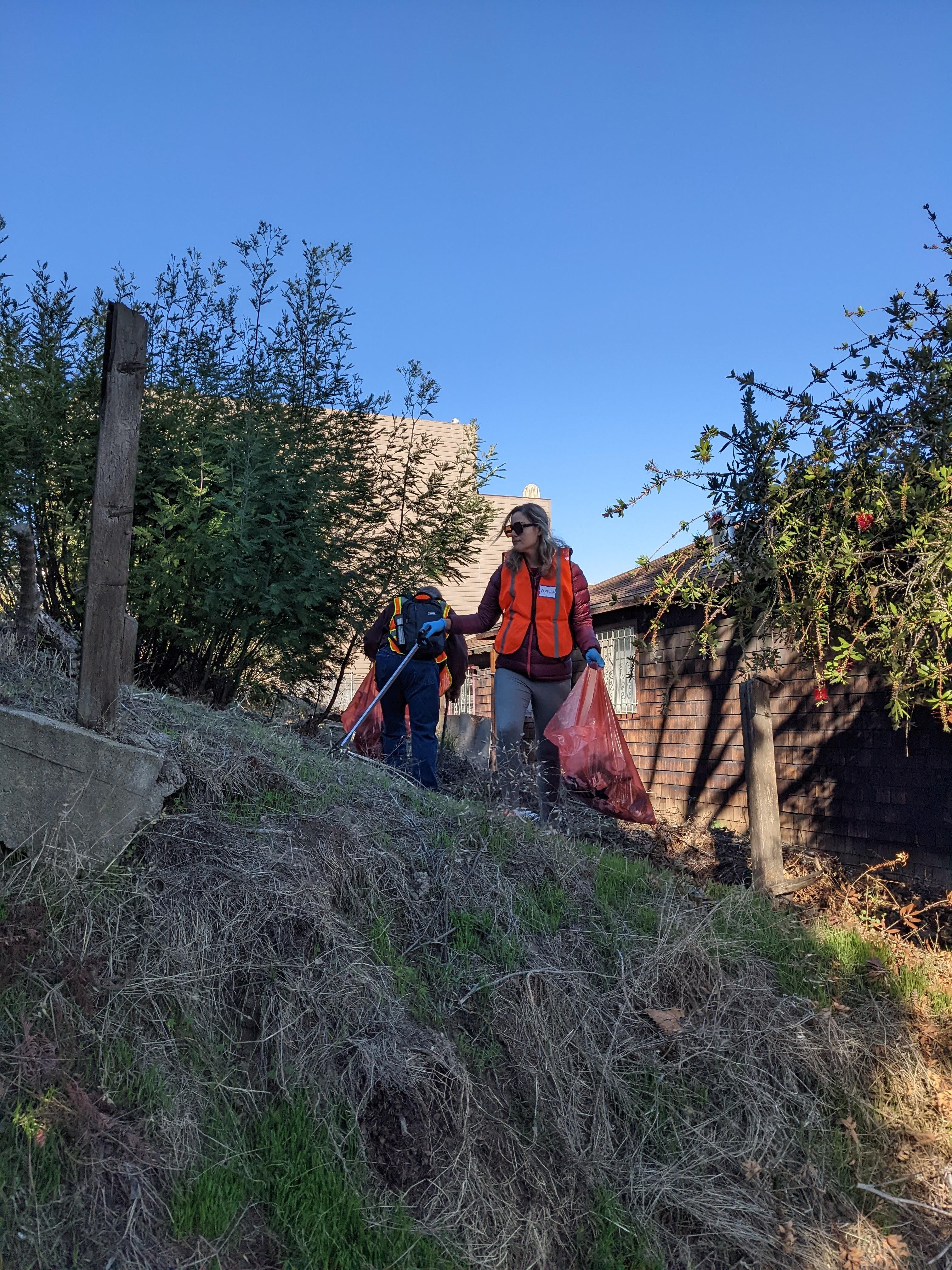 "The PMISF-BAC Sustainability Team has several exciting events planned for 2023. The first event, on January 18, will look at how an entrepreneur is using AI and drones to help solve San Francisco's illegal waste problems," said Ina Acuña, PMI SF-BAC Sustainability Director. "On February 1, we will host a professor from Hult for a talk on Sustainable Cities." 
"We encourage all chapter members to reach out to us with your ideas for sustainability-focused volunteer projects at sustainability@pmisfbac.org so we can increase our impact in 2023. We want to continue with more projects and events to even more of the Bay Area," said Hahn, a project manager who places a value on technical project management and leadership skills to maximize project efficacy and cross-functionality.