PMI is the International not-for-profit association for advancing the profession of project management. The organization administers the Project Management Professional (PMP) certification program, puts on international and regional seminars and provides geographical membership services through the chapters and industry-level services through the Specific Interest Groups (SIGs). Additional information is available on the PMI International website.
The project management resource in the San Francisco Bay Area
PMI-SFBAC sponsors a PMP Preparation Course, as well as conferences and workshops designed to meet the Chapter's Strategic Goal – To be acknowledged as THE Project Management Resource in the San Francisco Bay Area. PMI-SFBAC has been serving its members for 48 years.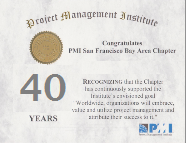 Today, PMI SFBAC has over 2700 members of which about 64% have achieved certification as Project Management Professionals (PMP). PMI-SFBAC is the 15th largest chapter in an international organization of over 250 chapters and 500,000 members in 185 countries.
Programs throughout the year
PMI-SFBAC holds monthly evening meetings and breakfast roundtables with additional programs throughout the year designed to meet the membership needs. Our calendar lists our upcoming events.  Feel free to contact any of our Board Members by email or phone if you would like additional information. Prospective members are always welcome to attend meetings and need not be accompanied by a member. They may also join our mailing list.
Chapter demographics
By Occupation:
By Industry:
By Home Location:

Project/Program Manager 44%
Functional Manager 23%
Consulting 18%
Other Occupations 15% 

Computer/DP/IT 40%
Consult/Mgmt Serv 14%
Eng./Design/Constr 11%
Financial Services 7%
Manufacturing 7%
Telecom 7%
Other 14%

San Francisco 17%
Oakland/Berkeley 10%
East Bay 42%
Peninsula 11%
South Bay 9%
Marin County 4%
Other Locations 5%
Some Top Company Representation
Our Membership includes representatives from these organizations:
Bank of America, Bayer Corp, Bechtel Corp, Blue Shield, California Department of Transportation, California State Automobile Association, Charles Schwab, Chevron-Texaco, Cisco Systems, EDS, Genentech, Hewlett-Packard, IBM, Inovant, Kaiser Permanente, Lawrence Livermore National Labs, Microsoft, SBC, Sun Microsystems, VISA International, Wells Fargo