Mentorship Program
"This program is fantastic! I feel very grateful to have the opportunity to participate and appreciate every minute I get to spend meeting with my mentor. Thank you everyone!"
With the success of Cohort 2019, the PMI-SFBAC Mentorship Program is hosting Cohort 2020 in two waves. Applications for Wave 1 closed on March 16th. We've had so much interest in our Mentorship Program, we are having a rolling kick-off date. Applications are being accepted from March 17th to May 16th for Wave 2.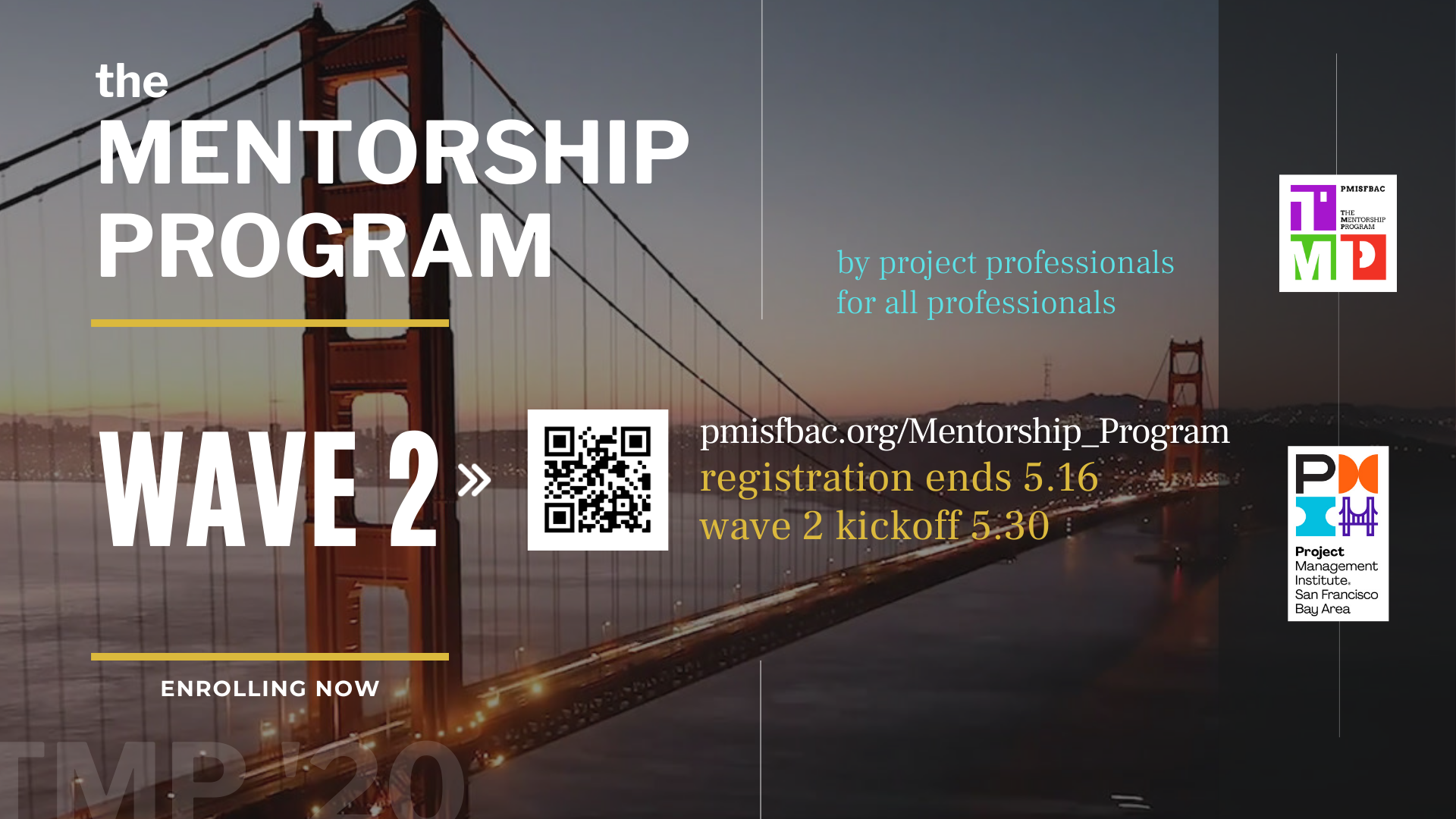 Vision - Improve success for the organization and individuals through the mentoring program with a focus on professional and leadership in the area of project / program management
Mission - Leverage the collective expertise of fellow professionals to succeed through mentorship program
PMI-SFBAC Mentorship Program supports fellow professionals who are either transitioning into a Project/Program Management career, or are seasoned professionals who seek to grow into senior leadership roles. 
We have two mentoring formats:
The One-on-One format caters to individuals who have specific objectives or growth ideas. Typically, we plan to have 2 cohorts every year and each cohort lasts about 6 months with an objective to enable the mentees to strategize and achieve focused goal in a time-boxed framework.
The Mentorship Circle is a focus group with 3-5 mentees with similar interests mentored by a very senior mentor (e.g. women in leadership, job seekers, art of having difficult conversation, etc.). Email the Mentorship Circle for more information at mentorshipcirclle@pmisfbac.org.
If you are a senior professional with a big heart to give back to the community, or a Project/Program Management professional who seeks growth in your career, you have come to the right place. We can't wait to on-board you into the Mentorship Program.
Thank you,
PMI-SF Bay Area Mentorship Program
mentorship@pmisfbac.org