<< Back to Calendar
San Francisco Roundtable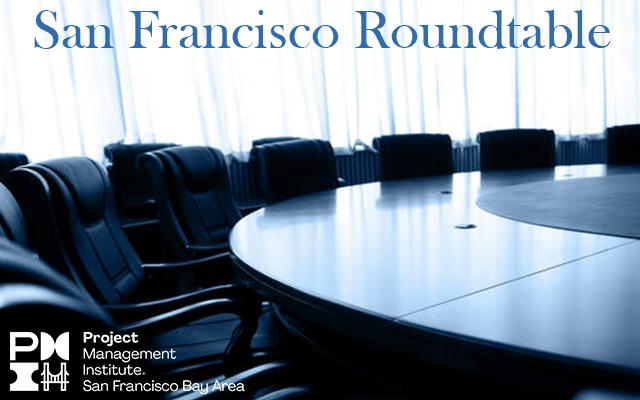 Event Title:

San Francisco Roundtable

Event Time:
 7:30 AM - 9:00 AM
Webinar Details:

To be distributed via email to attendees upon registration

PDUs for Event:
1.5
Description:

Roundtables are informal gatherings of 10 to 15 Project Managers or people interested in the field for discussing current topics in the profession, gathering suggestions from the other attendees on current project challenges, or receiving information on items of interest.

These meetings also provide members an additional way to participate and gain benefits from their membership.

Roundtable meetings qualify for up to 1.5 Leadership PDUs under Category 3.

Pre-registration is recommended for evidence of attendance. Please be advised that PMPs are required to provide evidence supporting their reported learning project. This may include a log of discussions with notes and dates.

For this month's meeting, please join us for our special guest speaker, Dr. James T. Brown, PMP, PE, CSP.

Dr. Brown's presentation, Risk Management: Texas Hold'em Tactics for the Project Manager, will provide the project manager with tips for probabilistic assessments and an understanding of human behavior as it relates to risk.

3 Key takeaways:
- Critical thinking is required with respect to risks
- Human behavior is a factor in risk assessment
-Communication of risks is tactical and strategic
Speaker Details:
 
Name of the Speaker:
Dr. James T. Brown, PMP, PE, CSP
Bio of Speaker:

Dr. James T. Brown has spoken to audiences from Anchorage Alaska to Amsterdam to Kuala Lumpur. Participants say his use of stories and humor bring critical truths to light, in an entertaining way that leaves them motivated to act.  He provides brilliant bluntness on real world, common sense practices for project management and leadership. 

Dr. Brown is the author of The Handbook of Program Management published by McGraw-Hill. Now in its second edition, it continues to be the best-selling book on program management since its publication. Filled with practical, real world advice, it has also been used by universities in their program management courses.  

Dr. Brown's previous career at NASA included "hands on" experience as a team member, project manager and serving in executive level organizational leadership roles. He has a patent for a project scheduling methodology and has received numerous awards including "Engineer of the Year"   from the Cape Canaveral Technical Societies and is a recipient of the "NASA Public Service Medal"   for exceptional contributions to NASA's mission. He has a Ph.D. in Industrial Engineering, a MS in Engineering Management, and a BS in Electrical Engineering. He is a licensed Professional Engineer (PE), a certified Project Management Professional (PMP).
Register to this event