<< Back to Calendar
The Project Management Professional (PMP) Certification Exam Boot Camp (Virtual)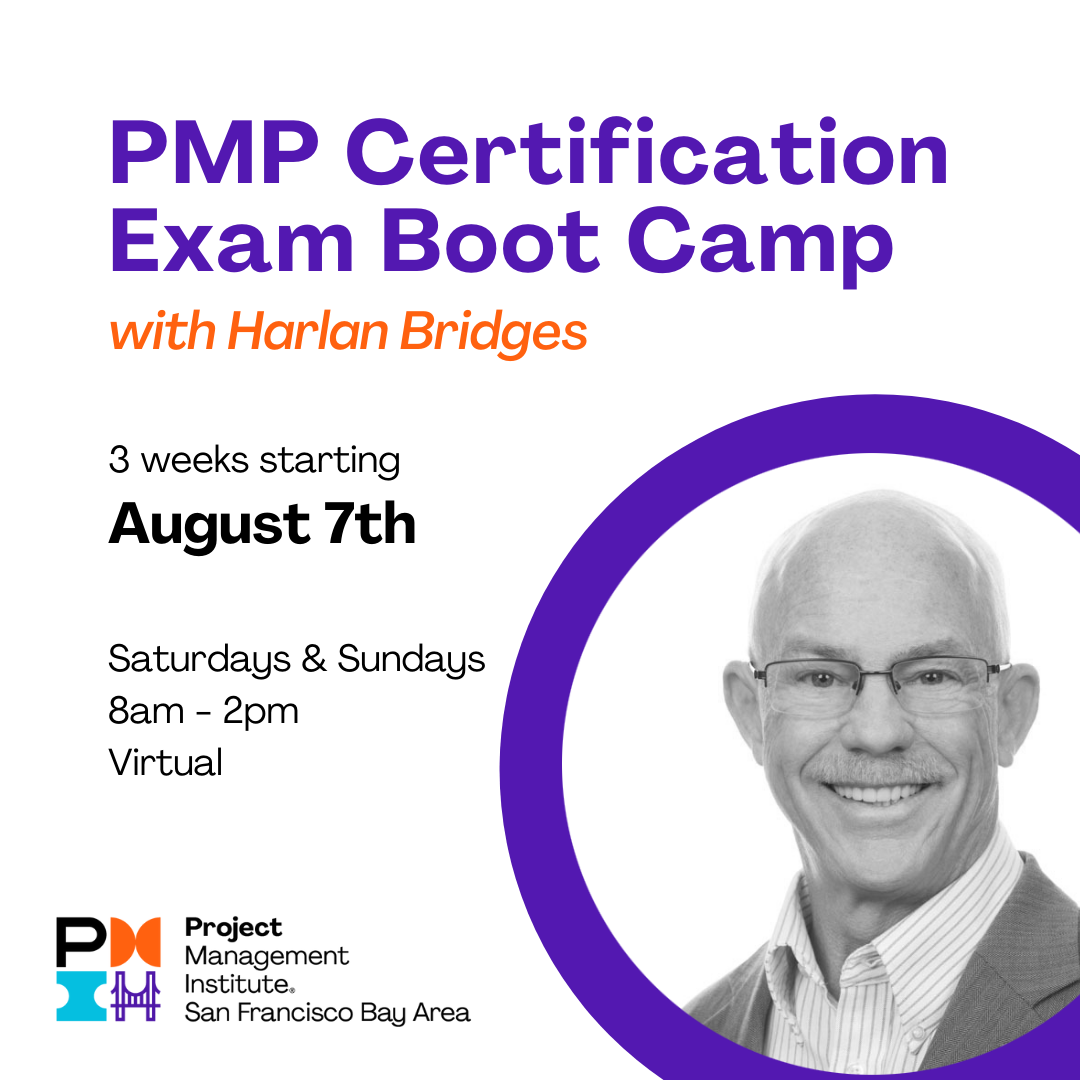 Description:

REQUIREMENTS
Earning your PMP Certification is a commitment, and that's why it is valuable. Do you have real-world project management experience that's led to success? Great—you've finished the hardest part. Before you apply, make sure you meet of the following sets of PMP Certification requirements:

A four-year degree
36 months leading projects
35 hours of project management education/training or CAPM® Certification
— OR —

A high school diploma or an associate's degree (or global equivalent)
60 months leading projects
35 hours of project management education/training or CAPM® Certification
COSTS
PMI Member: $405
PMI Non-Member: $555

RECERTIFICATION REQUIREMENTS
60 PDUs/3 years

Must be compliant with PMI Talent Triangle (https://www.youtube.com/watch?v=xsU3kRDBlqk)

EXAM DETAILS
180 questions (the previous exam was 200) but the same number of questions will be scored
230 minutes to complete the exam
One additional break for a total of two 10-minute breaks for computer-based tests. No scheduled breaks for paper-based exams.
Questions will be a combination of multiple-choice, multiple responses, matching, hotspot, and limited fill-in-the-blank.
Exam questions based on A Guide to Project Management Body of Knowledge (PMBOK® Guide) 7th Edition

Who should attend:

Project managers who want to strengthen their project LEADERSHIP. Experienced project leaders who want to refresh their inspiration and commitment to leading people and teams.
About the Speaker:
Harlan Bridges

PMP, PMI-ACP, ICP-CP, ICP-BVA

Harlan is a proven leader and Project Management Professional with over 15 years of experience in business management, web development, software development and technical communication projects and programs. He has a track record of expertly managing departments, business units, complex multi-million dollar projects and programs with remotely located teams. He has a strong background in business management, and Project Management Office (PMO) implementation. Harlan demonstrated leadership ability as an operational, project, and program manager. He also successfully led technology organizations for large corporations such as Hewlett Packard/Compaq (e-Commerce Manager) and Mercer Consulting, managed technology projects for web design firms and a Top Five consulting firm, implemented project management offices (PMO) and conducted project management training in corporate and government environments. Harlan began his career as a Project Management Professional after earning his BS from New York Institute of Technology. Early in his career he began working in Project Management, where he was able to show his leadership and ability to successfully take on internal and vendor projects. After this, he became a Consulting Project Manager where he had multiple notable clients. In this position, Harlan mastered the art of Project Management, going on to become the Senior Project Manager and PMO Consultant for Dewpoint, Inc. Since then, he has been a PMO Implementation Manager, PMO Setup Practice Lead, and most recently the Project Manager of the Ecommerce program for Meijer. Harlan's passion for project extends beyond his work. He is the current President of the Project Management Institute Michigan Capital Area Chapter. He is also the contributing author for "Business Driven PMO Success Stories: Across Industries and Around the World" (2013) and "Project Pain Reliever: A Just-In-Time Handbook for Anyone Managing Projects" (2013).
It is no longer possible to register for this event