Introduction to the Foster City Levee Improvements Project
Introduction to the Foster City Levee Improvements Project
Description:

The Foster City levee system, surrounding the majority of the outer bay-front perimeter of the City, is crucial in providing protection from flood hazards and storms. In 2014, the Federal Emergency Management Agency (FEMA) determined that Foster City's levee system does not meet the minimum requirements for flood protection. In order to maintain FEMA accreditation and keep Foster City properties out of the flood zone, Foster City voters approved Measure P in 2018 with nearly 81% support, authorizing the City to issue a $90 million general obligation (GO) bond to improve and strengthen the Foster City levee system.

 

Levee improvements will allow Foster City to keep Foster City properties out of the flood zone, maintain FEMA accreditation, prevent residents from paying mandatory flood insurance and protect essential city services during storms and earthquakes.

 

This is a joint event with the PMI Silicon Valley chapter. 

 

The registration fee is a donation we are collecting for sustainability initiatives and community service project materials. If you are facing financial hardship, please reach out to sustainability@pmisfbac.org for a fee waiver.

 

Disclaimer: Please note that the event will not be recorded. 

 

PDU's:

1.5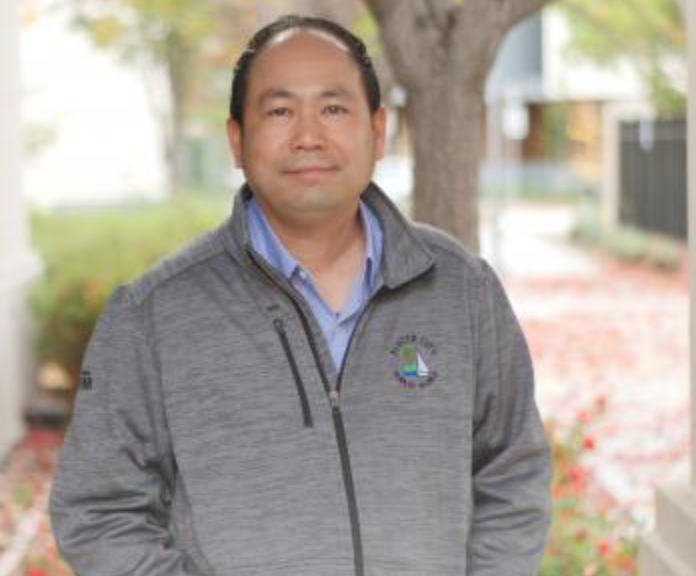 Louis Sun and Jonathan Tristao
Louis Sun is Foster City's Public Works Director and has over 16 years of experience working in the public sector. Prior to joining Foster City, he served as the Deputy Director of Public Works – Wastewater and Chief Plant Operator for the City of Pacifica. He is also a part-time adjunct lead faculty for the Water & Wastewater Technology Program at Evergreen Valley College in San Jose. Prior to his term in Pacifica, Mr. Sun worked as the Chief Plant Operator for the City of Bakersfield. Beyond his extensive experience managing wastewater systems, Mr. Sun has also worked as a Civil Engineer III, when he managed projects such as Regional Surface Transportation Program (RSTP), Congestion Mitigation and Air Quality Improvement (CMAQ), Community Development Block Grant (CDBG), Highway Bridge Program (HBP), and Bridge Preventative Maintenance Program (BPMP). He also worked in the private sector as a design engineer and construction superintendent.
Jonathan Tristao, PE is a Construction Manager at Tanner Pacific, Inc. (TPI), the Levee Improvement Project's construction management team. He has over four years of experience at TPI and about 10 years of construction and engineering experience. Prior to joining TPI, he spent five years at Mott MacDonald, serving as an engineer in the San Francisco Bay area. Jonathan holds a Bachelor of Sciences degree in Civil Engineering from South Dakota School of Mines and Technology.
Agenda (all times in PT):
5:15 pm Zoom room opens to test connections, light networking
5:25 pm Self-care activity
5:30 pm Event opens, announcements
5:40 pm Guest speakers
6:45 pm Event closes
Cancellation and No-Show Policy:
If you have made a reservation and find that you will be unable to attend, please send an email to sustainability@pmisfbac.org to cancel your ticket as early as possible. All cancellations are subject to a minimum $10.00 fee if done at least 3 days before the event. Cancellations after the event starts are subject to full charge to ensure the Chapter does not incur excessive expenses. You may also offer your seat to another student.
It is no longer possible to register for this event