<< Back to Calendar
Introduction to Design Thinking- It's Not Just "Thinking About Design"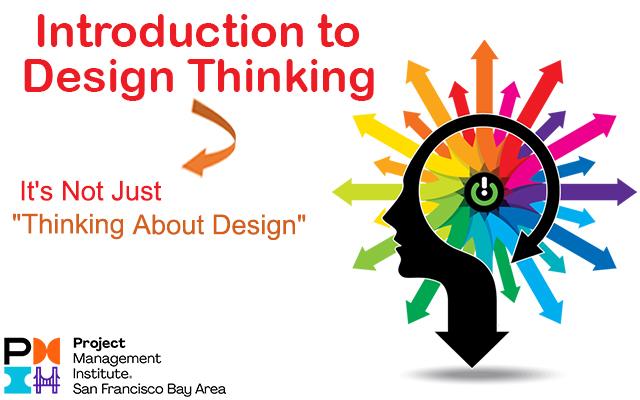 Event Description:

Design Thinking, popularized by IDEO and the Stanford University School is an incredibly valuable methodology for achieving unprecedented results in product development, project management, business leadership, and beyond. While it's natural to assume that design thinking would mean "thinking about design" - and that does describe some of what goes on in this process - that's somewhat misleading. A "leap year" isn't a whole year of leaping, and design thinking is more than design. It is an approach that goes beyond problem-solving to "thinking from the future" in order to invent solutions that would be difficult to discover by problem-centric approaches.

Objectives:

Both design thinking and Scrappy Project Management © share an obsession with "the customer". And both start by "thinking from the future" rather than getting stuck in the current situation, hampered by self-limiting beliefs about what's possible. Rather than using the classic design thinking model of Empathize – Define – Ideate – Prototype – Test, let's use a cycle that's a bit easier to remember

Rather than instinctively jumping on HOW to solve a "problem", start with WHY - Why is this project important?  Dig deeply to find an inspiring purpose beyond profit.

Next explore WHO - who cares, who's impacted, who's involved, and who's judging the success of your project?  The empathy map & personna are powerful tools to bring stakeholders to life.

Then move on to WHAT - what outcomes would go beyond "solving a problem" to surprise and delight your stakeholders?  Use lateral thinking to imagine the future, and then create it.

Use the power of cross-polination to explore and expand possibilities beyond the obvious solutions to the truly remarkable.

Design and rapidly prototype HOW to achieve the desiered outcomes and delight your stakeholders.  Get feedback early and often from a wide variety of people, then iterate.

Event structure:

60 minutes.  Lunch breaks at 12PM PST

Webinar:

Zoom link will be displayed after you have registered and paid.

PDUs:

7 PDUs (Technical: 1, Leadership: 1, Strategic: 5)
Speaker:

Kimberly Wiefling

About the Speaker:

 

Kimberly Wiefling is the President of Wiefling Consulting, co-founder of Silicon Valley Alliances, and auther of Scrappy Project Management, a global business leadership consultant, and a force of nature - the good kind!  She specializes in global team effectiveness - helping teams achieve what seems impossible but is merely difficult.  A scientist by educion, Kimberly has an M.S. in physics and a B.S., in chemistry and physics.  She earned her certificate in program and project management through UC Santa Cruz Silicon Valley, where she then taught program and project management for 6 years.  Kimberly's expertise is to make the "impossible" merely difficult, and then inevitable.  She has worked with people from over 50 different countries, and she's determined to transform Planet Earth one inspired and engaged at a time!

Speaking experience: Hundreds of talks in the US, Japan, Europe and Asia, including professional associations like PMI Poland, PMI SV, PMI Australia, and Fortune 500/Global 100 companies.
Cancellation and No-Show Policy:
If you have made a reservation and find that you will be unable to attend, please send an email to cfo@pmisfbac.org and cancel your ticket as early as possible. All cancellations are subject to a minimum of $40.00 fee during the early bird. Cancellations after Early Bird duration are subject to full charge to ensure the Chapter does not incur excessive expenses.  All refunds will be issued after two credit card-billing cycles.
It is no longer possible to register for this event