<< Back to Calendar
Members Only - Annual General Meeting (AGM) 2020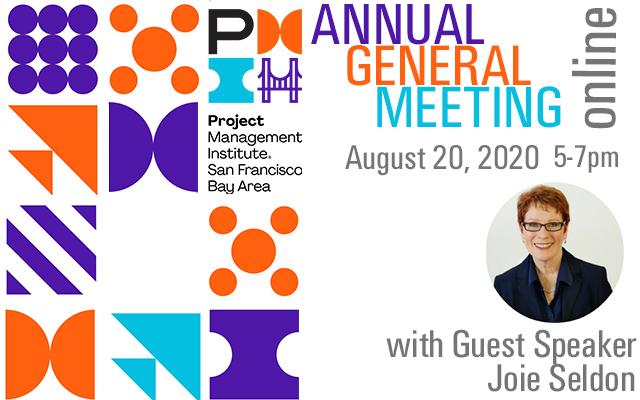 Event Description:

The PMI San Francisco Bay Area Chapter is delighted to invite you to the Annual General Meeting 2020, also known as the Member Appreciation Day, on Thursday August , 20th 2020 from 5 to 7 PM.

The event will be for the first time online due to the current pandemic situation. The link and more information about the event will be provided later upon registration.

We organized an event with presentations and entertainment games to show to our members how much we are thankful for being part of the PMI San Francisco Bay Area Chapter, for continuously attending to our programs, and more importantly, to make our community a great place to share knowledge, network and be friends!

During the event, the President, CFO and CEO will present the results of 2020 and the goals for the next year. 

We will also have an amazing speaker, Joie Seldon, who will talk about "Emotional Intelligence in Uncertain Times". By August 20th, whatever stage we are in, the pandemic will not have ended, racial equality will still be front and center, and the future will still be uncertain. How do you accept the reality of our times and keep a clear head, stay motivated, and move forward in your personal life and career? When you have Emotional Intelligence, you have access to an internal guidance system, a GPS for your life's journey. Participants will leave with fundamental knowledge about emotions that set a context for a few easy to use tools for stress reduction, emotional self-care, communication, and decision making.

Participants will receive a 1.5 PDUs leadership, may win a Gift Card by participating in games, and much more. 

So, don`t hesitate! 

This is a Members's only event. Seats are limited, Register Now!

Webinar Details:
To be displayed upon registratioin.
Event Prerequisites:

Please download the

free Zoom app

before the meeting begins

Event Structure: 

5:00 PM – 5:15 PM            Introduction and games
5:15 PM – 6:00 PM            Board, CFO & CEO Presentation
Break
6:05 PM – 6:50 PM            Invited Speaker
6:50 PM – 7:00 PM            Awards & Conclusion

Who Should Attend:

All PMI San Francisco Bay Area Chapter's members

.

PDUs for Event:
1.5 PDUs Leadership

About the Speaker:
Joie Seldon

Forty years ago, Joie Seldon dreamed of becoming a movie star. Her struggle for that dream, and ultimately falling short of it, led to decades of exploration and study of human behavior and the role emotions play in our lives.

Now a trainer, leadership coach, speaker, and specialist in Emotional Intelligence, she has helped project managers, executives, CEO's, and more benefit from one of the most valuable, and often underutilized, aspects of a successful career – their emotions.

Creator of the online course EMOTIONS AT WORK, Joie offers easy-to-apply information and tools that enable clients to handle difficult relationships at work, advance their careers and positively impact their work environment. She is the author of EMOTIONS An Owner's Manual, and holds a B.A. in Humanities and an M.A. in Somatic Counseling Psychology. 

She was a professional actor, acting teacher and workshop leader for thirty years in Los Angeles and San Francisco and now coaches business professionals in presentation skills. A dynamic speaker, she has presented to worldwide audiences online and onstage about the benefits and success secrets of Emotional Intelligence in business.
| | |
| --- | --- |
| Registration Details |   |
| Pricing Details: | Member ONLY: |
| Regular Registration: | FREE |
It is no longer possible to register for this event